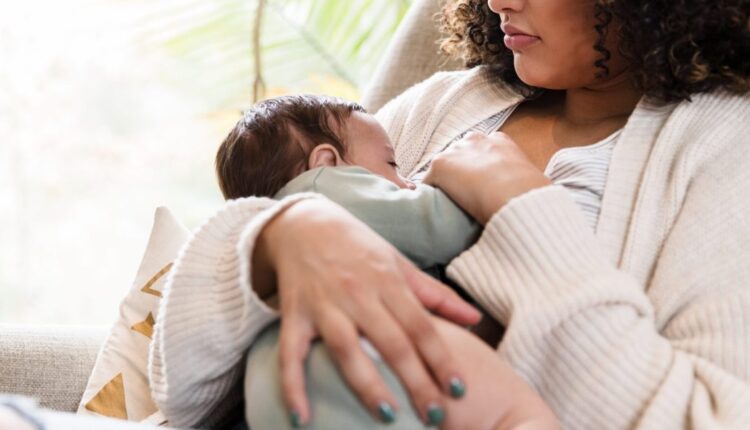 A policy that supports America's breastfeeding moms came into effect 11 years ago. It's still not applied
In 2012, an Affordable Care Act policy requiring commercial and Medicaid expansion plans to cover lactation support starting during pregnancy came into effect. It's been 11 years–and nothing has happened. No change. Despite the White House announcing last year that the Department of Health and Human Services would begin enforcing the policy, we have yet to see any health plans held accountable.
As a third-time mom currently feeding a 12-week-old girl, I respectfully call for CMS to enforce the legislation and policy established in 2012. As the Kaiser Family Foundation report on Medicaid Coverage of Pregnancy-Related Services outlines, many states currently do not comply with the ACA's requirement.
Right now, the U.S. is woefully behind our peers in all things maternal health. Our maternity mortality rates are worse than our parents' generation, women and maternal health are understudied and underinvested in, and women's pain during pregnancy and postpartum is continuously ignored.
The failure of the U.S. health care system to support women is incredibly shortsighted. Economists Henry Paulson and Timothy Geithner published a report on economic uncertainty in the U.S.–and one of their leading recommendations is that the country needs population growth, including from new births. Some Congressmen are even calling for U.S. women to focus on flourishing families–yet they don't support investing in the health of moms and babies.
Today, most states do not allow lactation support providers to enroll as Medicaid providers, which severely limits access. In some cases, it's because there is not a provider type designation for lactation consultants. States may require credentials such as M.D., NP, PA, or RN, in addition to the International Board Certified Lactation Consultant (IBCLC) certification. Many states fold lactation support services into the global maternity care payment rather than reimbursing separately, which is a disincentive to providing care and is time-bound, while many parents need support beyond the postpartum care visit. The universal maternity care payment is already too small, so there is no room left for breastfeeding and baby feeding support, which is a clinical specialty. However, like much in women's health, these specialties get dismissed and deprioritized, despite having tremendous health benefits.
Baby feeding is deeply connected to the maternal health experience, including the mother's physical and mental health and the baby's health. Those first few hours, days, and months are imperative to a baby's well-being.
We know that breastfeeding support helps improve breastfeeding rates for those who choose to breastfeed (and it is their choice!). Society is not supporting those who want to breastfeed despite the obvious public health benefits of doing so. Research shows that families in maternal health deserts don't have access to support services, and that is especially true for Black women.
Lactation support starting during pregnancy reaches patients before a baby is born to help tackle the other issues plaguing maternal health. Early mental health screenings can detect risks of postpartum depression and anxiety. Lactation support appointments postpartum are also a good way to remind patients to attend their six-week postpartum visit–which historically only 60% of patients attend. The six-week postpartum appointment is critical for checking the health of mothers, including their blood pressure to prevent preeclampsia and check concerns with diabetes, or issues with anemia.
The ACA's CMS Medicaid Coverage of Lactation Services must be enforced. Women have been waiting 11 years.
Andrea Ippolito is a health tech expert and the founder of SimpliFed, a maternal health company that provides lactation and baby feeding support.
The opinions expressed in Fortune.com commentary pieces are solely the views of their authors and do not necessarily reflect the opinions and beliefs of Fortune.