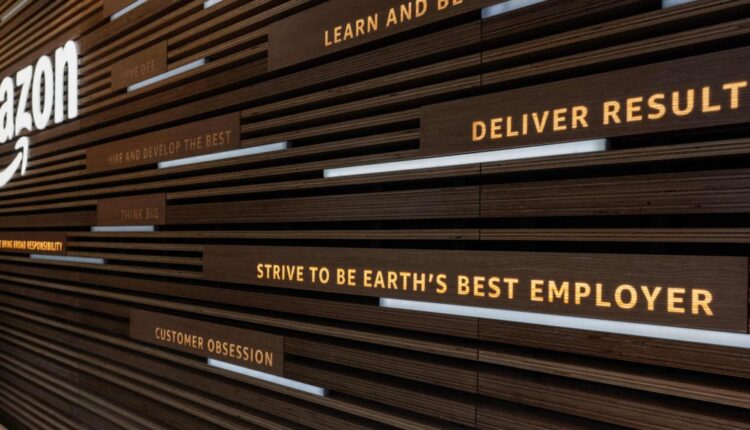 Anthropic's Amazon investment is the latest Big Tech AI alliance
Amazon will invest up to $4 billion in Anthropic, one of the buzzy startups building a generative AI chatbot. With the deal, announced Monday, Anthropic secures a major investment from a second Big Tech company, after already receiving $300 million from Google at the end of last year. Google's investment, which wasn't reported at the time, gave Google an estimated 10% stake in the company. In its latest fundraising round in May, Anthropic was valued at nearly $5 billion, according to TechCrunch. An updated valuation was not disclosed for Amazon's most recent investment nor details about the size of its minority stake.  
Amazon becomes the latest major player to invest in up-and-comers in the generative AI world, after ChatGPT maker OpenAI received $13 billion from Microsoft. 
Amazon's deal with Anthropic is more comprehensive than just a large infusion of cash—although it is of course that as well. In addition to the $1.25 billion in upfront funding Anthropic will also get access to tools for AI developers and products that Amazon is creating. These include access to computing chips, large language models, and Amazon's cloud computing capabilities under Amazon Web Services. Anthropic, which already has an AI chatbot called Claude and an established large language model, will be the latest addition to the ever-expanding arsenal of AI-specific tools Amazon is embedding within AWS. 
"A big part of our strategy in AI and generative AI specifically is all about customer choice and there's not going to be any one solution that works for all customers for all use cases," Amazon Web Services CEO Adam Selipsky told Bloomberg TV in an interview Monday.  
How does Anthropic's partnership with Amazon work?
Anthropic will, of course, get a big check. Amazon will invest $1.25 billion up front with the possibility for another $2.75 billion later, for a potential total of $4 billion. Amazon declined to provide further details about the deal's structure. 
Anthropic will use Amazon's new AI chips, which the e-commerce giant developed in a bid to rival Nvidia, which has so far cornered the market. Trainium, which as the name suggests, is primarily used to train machine learning models. Meanwhile, Amazon's Inferentia chips mostly help run the models once they've been built. The majority of Anthropic's work will also be done on the AWS cloud. 
Amazon and Anthropic had been working together on AI since this spring. At that time, Anthropic made some of its models available via Amazon's new Bedrock service, which gives customers access to AI models through a subscription. In the Bloomberg interview, Selipsky said the two companies will continue to work together to help AWS customers develop their own generative AI applications. Selipsky cited Lonely Planet and LexisNexis as customers interested in using Amazon and Anthropic's combined AI capabilities. A press release announcing the partnership also mentioned hedge fund Bridgewater Associates, the firm founded by legendary investor Ray Dalio, who has been bullish on artificial intelligence's potential to spur productivity. 
"So many of our customers have their data platforms on AWS," Selipsky said. "And if you've got your data here, you really want to have your generative AI and all the powerful capabilities in the same place." 
It's worth remembering that for Amazon, customers include both consumers and corporate customers that use its vast digital products to run their own businesses. "Together we can help include many customer experiences," Amazon CEO Andy Jassy posted on X, the former Twitter. 
What is Anthropic?
Anthropic was founded in 2021, originally billing itself as a "safer" AI company by touting its emphasis on "reliable" and "steerable" AI. 
Anthropic did not immediately respond to a request for comment. 
The company was founded by siblings Daniela and Dario Amodei, president and CEO respectively. Dario was formerly vice president of research at OpenAI, while Daniela was vice president of safety and policy. The duo left OpenAI in December 2020 to found Anthropic.  
Among Anthropic's better known products is its Claude generative AI assistant that can be programmed to ask clarifying questions if it doesn't understand a prompt. Like OpenAI, Anthropic operates on a freemium model that gives users a free rudimentary version of its chatbot or a more powerful version for a monthly fee. 
Dario Amodei has cultivated an image as a cautious AI executive. He once told the New York Times, he'd rather Claude be boring than dangerous—a nod to the fears that AI will potentially destroy humanity. Although like most of Silicon Valley's AI pioneers his excitement is effusive. When asked about AI's limits onstage at TechCrunch Disrupt last week, Amodei replied: "I'm not so sure there are any."