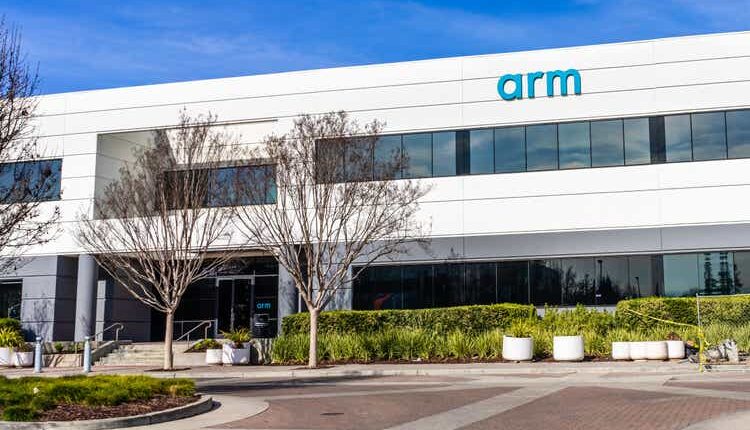 ARM is set to go public soon. The hype may not be warranted.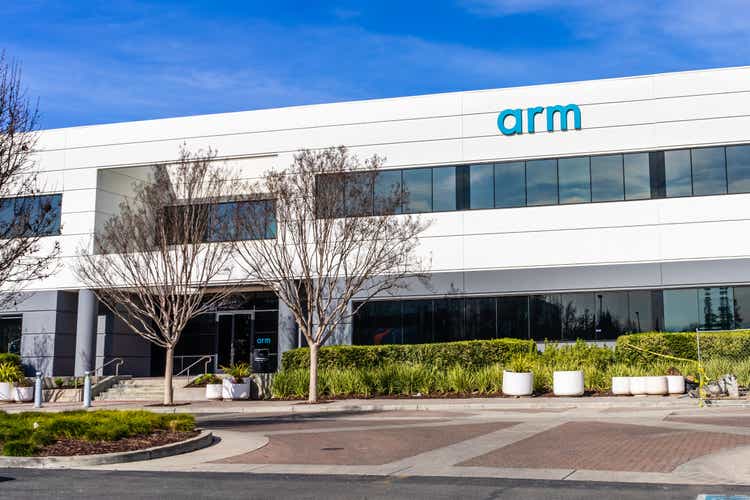 Arm Holdings, the British chip design unit owned by Japanese tech conglomerate SoftBank (OTCPK:SFTBY), filed to go public last week in what is sure to be one of the hottest offerings in years.
While there has been a great deal of hype around generative artificial intelligence this year, which has aided Nvidia (NVDA) – a major ARM client – and allowed it to surpass a $1T valuation, the hype surrounding Arm may not be warranted.
Bernstein analyst Sara Russo said the valuation for the company should be around $46B, citing figures from the company's prospectus. While she sees better-than-expected growth and an increase in the company's total addressable market, it's not as profitable as it once was.
"While it clearly remains a priority to support longer-term growth, we believe there is a risk [R&D expense] could need to remain structurally higher given the multi-end-market focus that Arm has now embraced," Russo wrote in an investor note about the upcoming IPO.
Russo now sees EBIT margins at around 36%, down from a prior view of 41%. She's still of the opinion that the company can increase this to roughly 47%, by fiscal 2033, but that is a nearly a decade away and as the world has seen in recent years (inflation, pandemic, supply chain shocks), much happen in a decade.
Roth MKM analyst Rohit Kulkarni noted that at a roughly $65B valuation, the IPO could be a "significant catalyst" for U.S. markets. However, he was "surprised" that a company of Arm's size, scale and history did not include "detailed" trailing six or eight quarter financial statements in the filing, as most companies have done.
Kulkarni also noted that while roughly 70% of the world's population interacts with ARM-based products (99% of smartphones use Arm-based chips), due to its extensive list of partnerships (software companies, video game companies, tech giants and more) there is still a concern that as the world moves away lower power technologies and gadgets and into areas such as artificial intelligence and machine learning, which are compute instensive, Arm is on shaky ground.
"There is growing need for custom chips for specific use-cases, particularly as it relates to AI large language model training and inferencing, which may potentially reduce customer dependence on the ARM core," Kulkarni wrote.
Arm is reportedly targeting a valuation of as much as $60B in the initial public offering. For comparison purposes, Arm was purchased by SoftBank (OTCPK:SFTBY) in 2016 for $32B.
There's also the concern about rising competition from other semiconductor companies.
Last month, a group of chip companies, led by Qualcomm (QCOM) and NXP Semiconductors (NXPI), said they were working on developing and promoting the RISC-V architecture, an ARM competitor.
Arm technology, licensed by companies such as Apple (AAPL), Nvidia (NVDA) and others, has dominated the mobile phone space and as increasingly moving into other areas, such as data centers and servers, where Intel (INTC) has long played.
The companies will initially go after the automotive market, but will expand beyond that into areas such as mobile and internet of things.
Of course, it's no surprise that San Diego, California-based Qualcomm (QCOM) would look to promote an Arm alternative. The two companies have are entrenched in a legal battle over its 2021 acquisition of chip start-up Nuvia.
Qualcomm (QCOM) is working on a Nuvia-inspired chip, which uses Arm technology, that it wants to use for laptops. However, Arm said Qualcomm (QCOM) needs a new license to use Nuvia's designs, while Qualcomm said it already has a license for Arm chip design that is wider reaching than the previous Nuvia license.
Despite the concerns about profitability, there is likely to be no shortage of investor appetite for Arm and its wares. Nearly all of Wall Street's investment firms have been included in the offering, suggesting that analyst coverage will be far and wide. In total, 29 investment banks are listed in the S-1 filing, including lead banks Goldman Sachs (GS), J.P. Morgan (JPM), Barclays (BCS) and Mizuho Financial.
The company has also courted a "who's who" list of tech companies to be anchor investors in the offering.
Companies such as Amazon (AMZN), Apple (AAPL), Alphabet (GOOG) (GOOGL), Intel (INTC), Microsoft (MSFT), Taiwan Semiconductor (TSM), Nvidia (NVDA) and more have either spoken to the company about investing in the offering or are reported to have done so.
In February 2022, Nvidia (NVDA) abandoned its deal to acquire Arm for approximately $40B due to pressure from global regulators and other semiconductor companies.
While it looks as if Arm (and Wall Street) are going to sell the immense hype in hopes of a large valuation and payout, investors should be careful, especially if the hype gets out of hand (or arm).