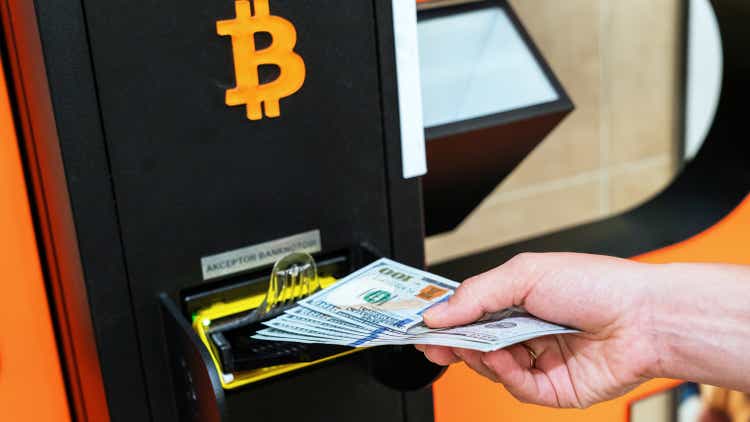 Bitcoin ATMs wane in popularity as installations said to hit two-year low
The number of bitcoin (BTC-USD) ATM installations across the globe dropped to the lowest level since 2021, even as most cryptocurrency prices bounced this year, alternative data provider AltIndex said in a recent report.
Bitcoin (BTC-USD) ATMs (Automated Teller Machines), also known as BTMs, are kiosks that enable customers to buy and also sometimes sell bitcoin with cash or a debit card. Designed to make it easy to convert cash to bitcoin, funds are transferred to a consumer's digital wallet and are verified and recorded on the blockchain, a secured public ledger.
But the popularity of BTMs has been losing ground since December, when the number of global BTMs reached an all-time high, the Wednesday report said. The number installed since then has plunged 17% to 32.5K in October. In January 2020, before the pandemic-induced a historic surge in crypto prices, the number of BTMs totaled just 6.36K.
AltIndex attributed the decline to "market volatility seen in the past ten months and the controversies about their potentially criminal use."
To that end, the Federal Reserve Bank of Kansas City has laid out a slew of risks of BTMs, from "predatory inclusion" to money laundering, that could eventually effect consumers and future regulation.
"The relative anonymity of transactions, along with the speed, convenience, and irreversibility of the cash-to-crypto conversion make BTMs ideal for money launderers," the Kansas City Fed wrote in an August article.
The U.S., which is home to the largest number of BTMs, saw the biggest drop in BTM installations. As of last week, the world's largest economy hosted 26.7K machines, down from 34.2K in December. Even so, the U.S. has eighteen times more BTMs than Europe, which had some 1.5K. Asia has the least installed machines at less than 350.
Interestingly, the peak in the number of BTM installations late last year coincided with a wider crypto market downturn that led to a barrage of high-profile failures across the industry. Now it appears the BTM/crypto relationship has started to disconnect, with BTM installations down for the year despite higher crypto prices. Although bitcoin (BTC-USD) itself climbed 77.2% YTD, it's still down nearly 60% from its record highs.
Bitcoin Depot (BTM), which allows consumers to buy bitcoin (BTC-USD) for cash at over 3.5K locations, has seen its stock drop 73% YTD. Still, B. Riley analyst Hal Goetsch has rated the stock a Buy, calling it a "way to express an investment view for the broader consumer adoption of Bitcoin without being highly correlated to price swings of the cryptocurrency market."
Other BTM operators include: Bullet Blockchain (OTCPK:BULT), Santo Blockchain (OTCPK:SANP), CoinCloud, CoinFlip, Bitcoin of America, Bitstop, Coinsource and Cash2Bitcoin.