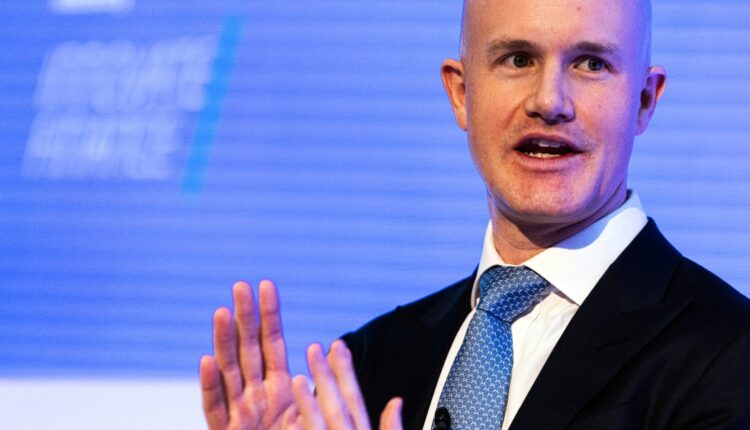 Coinbase app downloads decline ahead of key earnings report
When Coinbase reports its Q1 earnings at market close on Thursday, the results will matter not just for its share price but the narrative surrounding the company and crypto in general. After a year of bad news and eye-popping losses, investors will be looking for signals that Coinbase can turn the corner.
Unfortunately for Coinbase, one key indicator suggests the pain might not be over. According to Apptopia, a research firm that tracks metrics related to app usage, the number of people downloading the company's app continues to decline even as crypto prices have recovered significantly after bottoming out last December.
In a presentation this week, Apptopia VP of Research, Tom Grant, said his data paints a more bearish picture for Coinbase than consensus expectations. He shared the chart below that shows app downloads continuing to decline even as trading volume has ticked up slightly.
The ongoing decline in downloads does not, of course, tell the full story for how Coinbase is performing. Given that the price of Bitcoin has doubled since last quarter, and as volume is rebounding, the company's income from trading—which still accounts for the biggest portion of its revenue by far—likely jumped substantially in Q1.
Grant, however, pointed to another indicator that suggests Coinbase's troubles are not over. Specifically, he notes that, after a big uptick in the first two months of the year, app usage dropped off significantly in March. This was the case for both casual users and so-called power users, who make up 20% of Coinbase's customer base but account for 80% of the time spent on the app.
The first chart below shows the surge and subsequent drop-off in users during Q1, while the second shows how non-power users dropped off by around 80% from a February surge.
Coinbase did not respond to a request for comments about Grant's data. The firm is currently in a so-called quiet period, which severely limits public companies from making statements in the weeks prior to earnings.
When Thursday's earnings are released, investors will be also be looking at things like trading volume trends as well as for insights on how Coinbase plans to navigate an increasingly hostile regulatory environment. They will also be looking at how Coinbase's revenue from USDC—a bright spot in its last earnings report—has been affected by the stablecoin's drop in market cap following a brief depegging at the height of the recent banking crisis.
Analysts expect Coinbase to report a first-quarter net loss of $329 million, or $1.38 per share, compared with a $429 million loss, or $1.98 a share, in the same quarter a year ago.
Subscribe to Well Adjusted, our newsletter full of simple strategies to work smarter and live better, from the Fortune Well team.
Sign up today
.