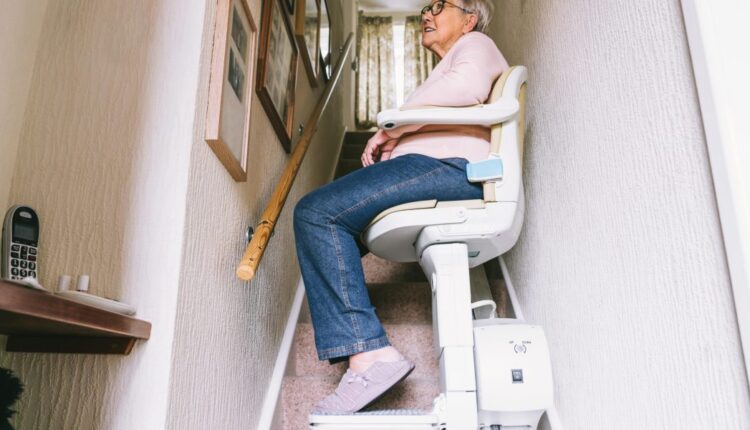 Does Medicare cover stair lifts?
Most older adults, about 3 in 4, want to age in place. But many are also aware that their current home may not have the perfect set-up to do that, especially if they live in a home with more than one floor. Stairs can be a huge safety concern, especially if there are balance or mobility issues.
A stair lift—a motorized chair that attaches to a rail to glide you up and down safely—might seem like a perfect solution. But, there's a catch: they can cost thousands of dollars and are not covered by traditional Medicare.
That's because Medicare classifies them as a home modification, not durable medical equipment (DME) like a walker or wheelchair, which is paid for by Part B coverage. Under Part B, DME must be considered "medically necessary" and ordered by a Medicare-participating physician. Medicare also does not pay for equipment it considers used for "comfort or convenience" such as bathroom grab bars, handrails, or wheelchair ramps. Similarly, no Medigap supplemental plan will cover stair lifts, since they only pay the remaining costs of Medicare-covered expenses.
Some Medicare Advantage plans or long term care insurance may cover all or part of the cost of installing and maintaining a stair lift, but this benefit varies widely from plan to plan. However, if you or a loved one is considered a dual-eligible—meaning you receive both Medicare and Medicaid (the joint federal/state program for low-income individuals)—a stair lift may be covered through Home and Community Based Services (HCBS) waivers. Coverage varies from state to state, and you must meet the care threshold, which requires that you are "nursing home eligible" and without these services, you would have to live in an institutional setting.
Paying out of pocket
If you do plan to install a stair lift, there are several things to keep in mind as you shop around, according to OptionsHME, a home medical equipment company in Highland, Illinois:
Is a stair lift your best option? Users must be able to get on and off with minimal help (such as a cane). Otherwise, a wheelchair lift or elevator may serve your needs better.
Do you need a straight or curved lift? Straight lifts are best for a single flight of stairs, without a landing in between. Otherwise, you will likely need a curved lift, which can be further customized to the contours of your home staircase, but which cost considerably more.
Do you want to buy new, buy used, or rent? Most reputable medical equipment companies will offer a variety of options. Used vs. new can save thousands of dollars. Renting may be a better option if your situation is temporary, such as recovering from a serious fall or surgery.
How much is installation? That's most likely an additional cost, and depending on complexity, could add on another $2,000 to the final bill. However, because of safety (and possibly warranty) concerns, it's wise to have a professional do the work.
What is the schedule and cost for maintenance? Most companies offer a service contract to ensure your lift continues to operate safely and smoothly. Budget at least a few hundred dollars annually for this service.
What are the options for customization? Many stair lift manufacturers offer a wide variety of designs, shapes and sizes—including models that fit narrow staircases in older homes. Seats, footrests, and even chair upholstery can be modified; fold-flat rails or units with increased weight capacity can be added, according to BraunAbility, one of the leading makers of mobility devices in the U.S. But, be aware that cost of custom lifts can quickly add up.
Is there a battery backup? Most units will include a rechargeable battery as a fail-safe, in case you lose electrical power. Ask for a demonstration on how and when it activates.
What type of warranty is offered? Make sure you understand what is and isn't covered, and for how long.
Is financing available? Many reputable companies offer financing if you want to pay over time, but check terms and rates carefully.
Additionally, AARP suggests that if you're a veteran, check into Department of Veterans Affairs programs that help with home adaptations to see if you qualify for financial assistance. While most grants are for service-related disabilities, the VA's Home Improvements and Structural Alterations (HISA) program also provides some funds to veterans for non service-related needs.
Also, check with your accountant or financial advisor about possible tax breaks for home improvements; a stair lift may qualify as a tax deductible as a medical expense.
Subscribe to Well Adjusted, our newsletter full of simple strategies to work smarter and live better, from the Fortune Well team.
Sign up today
.