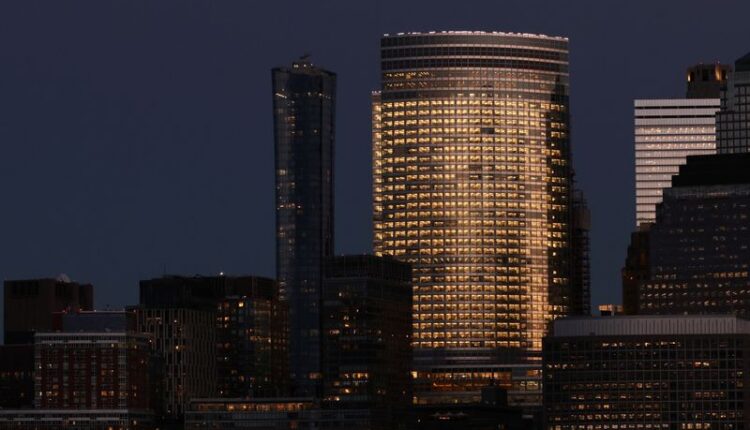 Exclusive-Goldman Sachs discusses bigger bonuses for top traders, dealmakers -sources By Reuters
© Reuters. FILE PHOTO: People walk in the Goldman Sachs global headquarters in Manhattan, New York, U.S., November 15, 2021. REUTERS/Andrew Kelly/File Photo
By Lananh Nguyen and Saeed Azhar
NEW YORK (Reuters) – Goldman Sachs bosses are considering fatter bonuses to retain star traders and dealmakers this year as the bank looks to win over some who were disappointed by smaller payments in 2022, according to five sources with knowledge of the situation.
The bank has been through a dismal year with earnings down 34% in the first nine months of 2023, pressured by tepid dealmaking and writedowns for a consumer business that lost $3 billion in three years. Goldman's weaker year-to-date profit suggests payouts should be flat or lower, said Stephen Biggar, an analyst at Argus Research.
Despite that, Goldman executives are discussing sweeteners for standouts from the trading and investment banking division, which accounts for about 68% of its revenue, three of the sources said. The pay bumps could help win over some employees who balked at smaller bonuses last year that they blamed on losses from the retail operations.
The firm's allocation for bonuses fell by as much as 40% in 2022, according to another source, after earnings slid 48%. That drop exceeded Wall Street's average bonus decline of 26%.
Wall Street pay varies widely based on performance and market conditions, and bonuses account for a large share of compensation – in some cases more than double an employee's annual salary.
Goldman Sachs CEO David Solomon and senior executives have met with small groups of partners to discuss the company's strategy to refocus on the powerhouse global banking and markets division, while growing in asset management, partly to allay concerns about compensation, another source said. The year-end pay discussions are still in early stages and have not yet been finalized, the people said. Details on the talks have not been previously reported.
"Our compensation philosophy hasn't changed, we're always focused on investing in our people, especially our top performers," the company said in a statement on Friday. "We're not going to comment on premature speculation around the comp cycle."
The firm laid off more than 3,000 employees in January in its biggest round of job cuts since the 2008 financial crisis. It followed with more headcount reductions months later.
Yet higher compensation is being floated to keep star employees from being lured away by more lucrative opportunities in private equity or hedge funds, one of the sources said.
Several prominent Goldman partners have departed in recent months for other financial firms, including Julian Salisbury, who is joining investment firm Sixth Street, and Dina Powell McCormick (NYSE:), the former head of the bank's sovereign business who left for merchant bank BDT & MSD Partners.
"They've had to be more competitive with buy side and the alternative shops, which argues for higher pay for a given level of performance," said Biggar.
The bank is also tweaking rewards for asset managers whose long-term payouts will be increased when funds outperform, according to a source who confirmed an earlier Bloomberg report.
Meanwhile, investment banking could improve. Goldman was involved in several major transactions in recent months that spurred optimism about a nascent market recovery. It was among the advisers to Pioneer Natural Resources (NYSE:), which agreed to sell itself to Exxon Mobil (NYSE:) in a $60 billion deal, and also advised on the listing of Arm Holdings (NASDAQ:).
"From time to time, firms supplement bonus pools if they deem it's necessary to retain talent or meet competitive needs," said Christopher Connors, a principal at Johnson Associates, a Wall Street compensation consultant. "While not always the case, it is often in years with more unique circumstances," such as during the financial crisis or pandemic, he said.
Bonuses for bankers advising on buyouts are forecast to drop by 15% to 25% this year from 2022, the consultant wrote.
WALL STREET BONUS SLIDE
The potential compensation gains contrast with expectations for a broader industry slide. New York State Comptroller Thomas DiNapoli predicted that this year's bonus pool will shrink alongside profit, but said the changes would vary widely.
Average bonuses in New York's securities industry sank 26% to $176,700 in 2022 after two years of record highs, according to the comptroller's report.
Average compensation for managing directors in U.S. investment banks is predicted to drop 10% to 15% this year because of declining deal activity and revenue, according to early projections from executive search firm Sheffield Haworth.
Banks are expected to lay off more employees at every level while giving their lowest performers "very disappointing" bonuses or none at all, according to Natalie Machicao, a director at Sheffield Haworth.
"Hard decisions will have to be made in order to keep top-performer compensation aloft to ward off poaching when deal flow returns," she said.