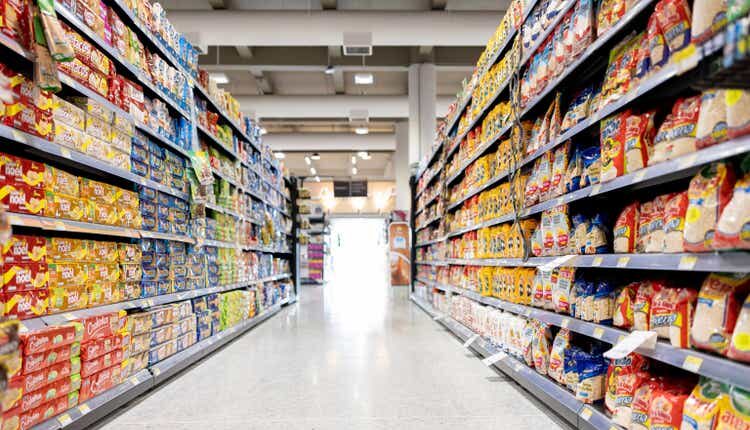 Food and beverage stocks that stand out amid interest rate, GLP-1 anxiety (NYSEARCA:PBJ)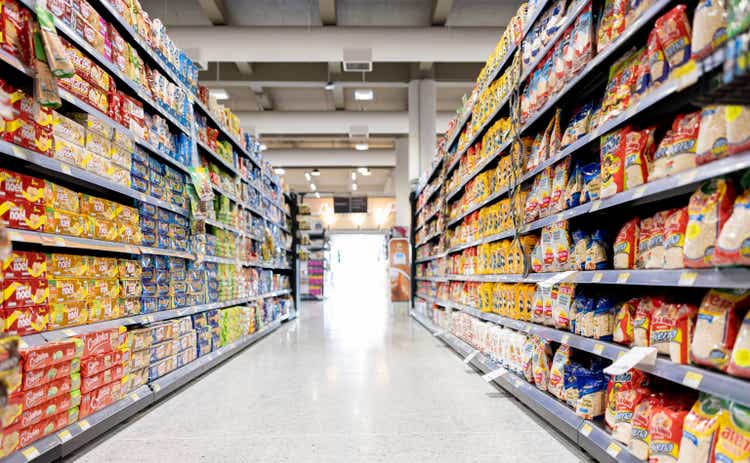 The earnings season for the food and beverage sector ramps up in the weeks ahead. TD Cowen set the table and laid out the key themes for investors to consider amid a tough macroeconomic backdrop. Analyst Robert Moskow said rising 10-year bond yields and concerns around the long-term impact of GLP-1 weight loss drugs are considered the two-headed monster in the sharp pullback in shares prices. Of note, U.S. food P/Es are now 23% below their 20-year average and beverage stocks are in-line.
"We think rising bond yields explain most of the devaluation of these long duration cash flow assets, with bearish investors using the GLP thesis as an added reason to stay negative. However, we see no signs of volume compression from GLPs in our retail tracking data yet," updated Moskow.
Moskow and team view the sell-off in beverage stocks as an overreaction given that most beverage consumption is for hydration rather than satiety. The firm expects beverage companies to generate stronger growth than food. For Q3, Cowen forecast 3% organic growth for food companies, 51% for energy drinks, and 3.9% for alcohol. For 2024, the forecast is for 1.5% for food, 5% for CSDs and alcohol, and 22% for energy drinks.
Cowen advised staying away from companies with high exposure to low-income consumers and private label. Cutbacks in pandemic-related government stimulus programs for low-income consumers are noted to have significantly affected volume sales in staples in general. Food companies are anticipated to need to invest in price to revive volumes in 2024 at the expense of gross margin. Investors are also likely to have a heightened focus on balance sheets in a rising rate environment, and continue to take a skeptical view of companies such as Campbell Soup (CPB) and J.M. Smucker (SJM) that have leveraged up their balance sheets to make acquisitions in a rising interest rate environment.
Cowen sets the table for investors in the food and beverage sector by pointing to a few high-conviction Outperform-rated stocks.
Mondelez International (NASDAQ:MDLZ) made the list due to strong investments and business momentum in developing markets that differentiate the story. The high international exposure was said mitigate the GLP risk to the snacking portfolio. Cowen expects a beat-and-raise in Q3.
Freshpet (FRPT) was called a proven disruptor in the premium dog food category with strong competitive moat in refrigerated fresh. Retail sales growth accelerated to 30% in Q3 for the company, despite concerns about consumers trading down. Cowen expects a positive revision to EBITDA guidance.
Celsius Holdings (CELH) is tipped for a strong Q3 earnings print after Nielsen data showed accelerating revenue growth and market share gains. Cowen thinks Celsius' (CELH) full-year guidance will also surprise to the upside.
MGP Ingredients (MGPI) made Cowen's outperformer list as well. The view is that MGPI's transformation to an increasingly American whiskey-focused enterprise should be a key driver of outsized revenue growth and operating margin expansion.
RBC Capital also thinks the food and beverage sector is investable as it called the GLP-1 bear thesis overdone. The firm reminded that the industry has seen other feared disruptors fall flat, with the alternative meat sector and Beyond Meat's (BYND) share price collapse called a prime example.
The food stocks with the highest Seeking Alpha Quant Ratings are Lifeway Foods (LWAY), Mama's Creations (MAMA), and Post Holdings (POST). Meanwhile, Steakholder Foods (STKH) and WestRock Coffee Company (WRK) have clean sweeps of bull rating on Wall Street. On Seeking Alpha, analyst Manika Premsingh is bullish on Whole Earth Brands (FREE) and analyst Lighting Rock Research recommends PepsiCo (PEP).
What to watch: Coca-Cola (KO) will hold an intriguing earnings conference call on October 24. Executives could be asked to discuss the consumer environment, tax litigation, strategies for the Costa business, and any potential impact from GLP-1s weight loss drugs. Coca-Cola (KO) could also delve into its plans with alcohol partnerships. The beverage giant just announced a new partnership with Pernod Ricard SA (OTCPK:PDRDF) to debut Absolut Vodka & Sprite as a ready-to-drink pre-mixed cocktail in 2024. Nielsen data over the summer indicated that prepared cocktails continued to be the fastest growing category in distilled spirits. High Noon, Anheuser-Busch's (BUD) Cutwater Spirits and Jose Cuervo products all were red-hot.