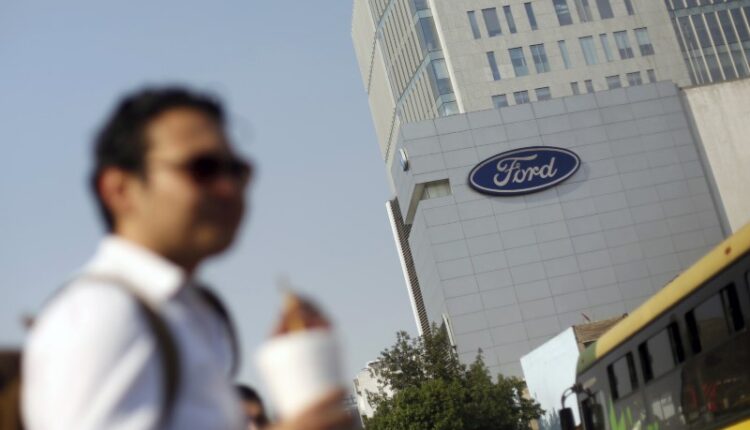 Ford withdraws 2023 forecast, warns on EV results By Reuters
© Reuters. FILE PHOTO: Ford logo is pictured at the 2019 Frankfurt Motor Show (IAA) in Frankfurt, Germany September 10, 2019. REUTERS/Wolfgang Rattay/File Photo
By Paul Lienert and Nathan Gomes
DETROIT (Reuters) -Ford Motor Co on Thursday withdrew its full-year results forecast due to the pending ratification of its deal with the United Auto Workers (UAW) union, and warned of higher losses on electric vehicles, sending shares of the company down 3% in after-hours trade.
The union and Ford (NYSE:) on Wednesday reached a tentative agreement that included a 25% wage hike for 57,000 workers over 4-1/2 years, ending a strike at some of the automaker's biggest factories.
The total economic loss from the strikes at the Detroit Three automakers has reached $9.3 billion, consultancy Anderson Economic Group said earlier this week.
Ford's adjusted third-quarter earnings per share of 39 cents missed the Wall Street average target of 45 cents, according to LSEG data.
Ford on Thursday said its electric-vehicle unit posted a higher-than-expected loss in earnings before interest and taxes of $1.3 billion. The company has forecast a full-year loss of $4.5 billion for the Ford Model e unit.
The automaker said its EV business was experiencing "sharply compressed" prices and profitability, and said customers were not willing to pay a premium for EVs over comparable combustion and hybrid models.
Ford's third-quarter revenue rose 11% to $44 billion, with profit of $1.2 billion compared with a year-earlier loss of $827 million.
Ford's Detroit rival General Motors (NYSE:) on Tuesday withdrew its 2023 profit outlook due to the strike. Later in the day, the UAW expanded the strike to include the automaker's assembly plant in Texas that builds its profitable full-size sport utility vehicles.