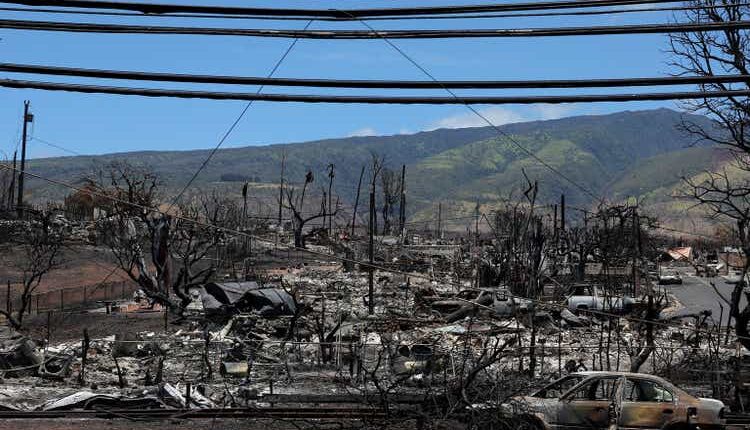 Here's what Maui wildfires mean for Allstate, other P&C insurers (NYSE:ALL)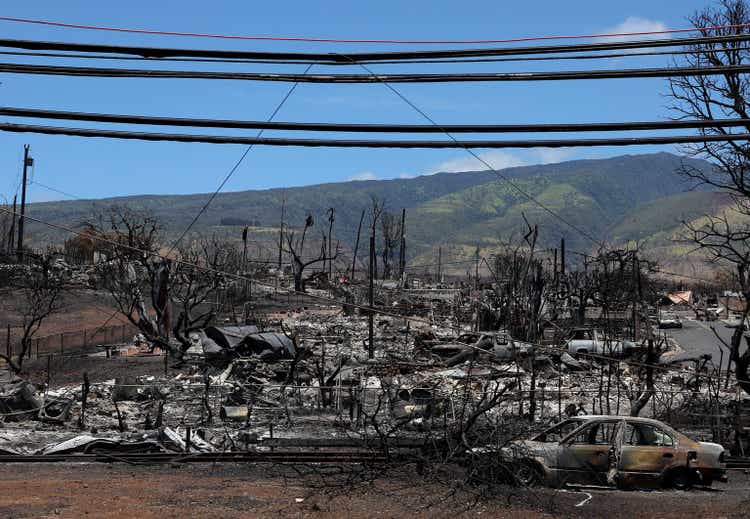 With the devastating wildfires sweeping across Maui island last week, property and casualty insurers with exposure to Hawaii are set to incur catastrophe losses in what would be a negative for third-quarter earnings.
The physical impact of the fast-moving inferno, exacerbated by tropical wind storms, has been heartbreaking, with thousands of homes obliterated and the death toll reaching at least 110 people.
Citi analyst Joshua Shanker said in a recent note that the fires are estimated to have caused some $1.3B in homeowners' losses from more than 3K homes, citing data from catastrophe modeler CoreLogic. By comparison, 1992's Hurricane Ikini drove about $3B in insured losses and last year's Hurricane Ian drove about $50B-$65B in global insured losses.
Shanker listed Allstate (NYSE:ALL) (8%), American International Group (NYSE:AIG) (2.3%), Chubb (NYSE:CB) (2.3%), and The Hartford (NYSE:HIG) (0.9%) as some of the carriers with the largest Hawaii homeowners' insurance market shares, as measured by direct written premiums.
P&C insurers exposed in Hawaii's homeowners insurance market may find themselves paying premiums to reinsurers to help cover losses above certain marks, an ideal risk-management tool for insurers to protect themselves from large financial losses in the event of any natural disaster. Bear in mind the frequency of extreme weather events has been on the rise over the years, GlobalData said in a report dated Friday, meaning P&C insurers' have to pay higher reinsurance rates, an increase that ultimately gets passed on to homeowners.
For Allstate (ALL), in particular, Shanker estimated that the company will likely endure ~$125M in catastrophe losses from the Maui fires in Q3. The sell-side analyst assumed $1.0B in Q3 catastrophe losses, given the risk of hurricane season, and another $680M in Q4. Allstate (ALL) estimated its July catastrophe losses at $313M, mostly owing to wind and hail events across a wide geographic area.
Regarding auto insurance market shares in Hawaii, Berkshire Hathaway's (NYSE:BRK.A) (NYSE:BRK.B) GEICO tops the list at 29.5%, and Allstate (ALL) and Progressive (NYSE:PGR) have 9.7% and 7.0% market shares, respectively.
"While major hurricanes and earthquakes have historically represented the most devastating insured loss events, the Maui wildfires are another indication that wildfires, tornados and thunderstorms have increased their potential to be multi-billion-dollar events and that the concerns around catastrophe risk have spread from what had typically been a California, Florida and Gulf of Mexico focus," Shanker wrote.
Of course, the adverse financial impact of the Maui fires that ignited August 8 aren't just limited to insurers. Shares of Hawaiian Holdings (HA) dropped 16% since the start of the fires as the airline has the highest exposure of flights to Maui. Host Hotels & Resorts (HST), a lodging REIT that has three hotels in Hawaii that accounted for 11% of 2022 EBITDA, slid 5.7%. Also, Hawaiian Electric Industries (HE) plunged ~66% amid concerns over its liability for the fire.
Sunstone Hotel Investors (SHO), meantime, disclosed on August 10 that its 547-room Wailea Beach Resort did not sustain any physical damage as a result of the fires on Maui.
More on Insurers: