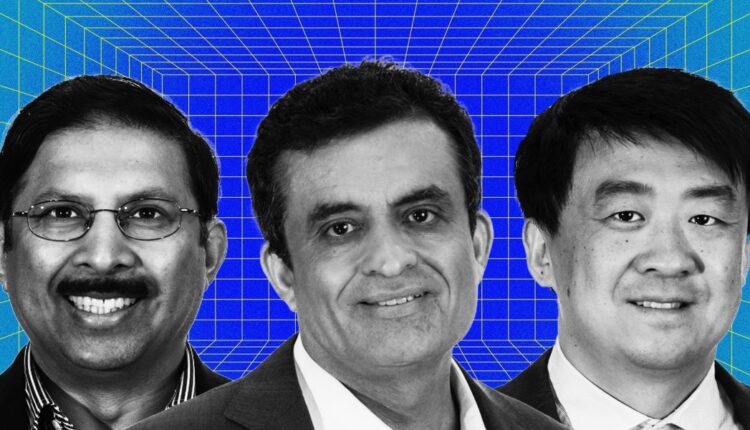 How a crypto startup raised $81 million with no product, no customers, and just a pitch deck
In May, the crypto startup Auradine announced it had raised $81 million, an attention-grabbing sum for a firm's first fundraise, especially in a crypto bear market and especially for a company that said it's making "disruptive infrastructure solutions leveraging cutting-edge technologies" but declined to provide details about what any of that actually was.
"Even in the hardware sector, where capital intensity is very high, this is pretty eye-opening," Tom Walton-Pocock, founder of the deep tech venture capital firm Geometry, told Fortune. "It's a pretty gigantic raise."
Also surprising, and what no other publication has reported, was that the founders of Auradine—Rajiv Khemani, Barun Kar, and Patrick Xu—had raised $81 million with no product and no customers. A pitch deck had been enough for investors to throw tens of millions of dollars at the trio.
Only recently did Auradine unveil its first product: a Bitcoin chip and mining system called Teraflux. So how did Khemani, Kar, and Xu raise $81 million seemingly out of thin air?
Old kids on the block
Khemani, now the CEO of Auradine, is not a fresh-out-of-college founder.
After studying computer science and engineering in Delhi, he worked his way up the corporate ladder to become general manager and director of marketing at Intel. Then, after more than a decade in corporate tech, he caught the startup bug and guided a semiconductor company to an initial public offering, founded his own early-stage venture capital outfit, and, in 2021, sold a cloud-computing startup for more than $1 billion.
In late 2021, Kar and Xu, then vice presidents at cybersecurity firm Palo Alto Networks, told Khemani they had an idea for a company and that the two were already in talks with Marathon, a publicly traded Bitcoin miner, about their planned startup.
"We recognized early on that this was a very large opportunity," Sriram Viswanathan, the founding managing partner at Celesta Capital who had invested in Khemani's last company, told Fortune. (Celesta and Mayfield were the two lead investors in Auradine.) He decided to back the new venture, but he stipulated that Khemani, who initially was just advising Kar and Xu, become CEO.
Khemani agreed, and in May 2022, just as the crypto market was entering freefall after the collapse of the fraudulent Terra stablecoin, the team finalized an $81 million raise to develop hardware for specialized computations—Bitcoin mining, advanced cryptography, and A.I. They named their company Auradine, combining the Latin root for gold—aura—with the unit of force—dyne.
Cashing out chips
Startups that aim to manufacture hardware aren't the same as those that spin up a simple iPhone app, and the capital costs of making computer chips are much higher.
By the time a company "does get to the point that it's decided to produce a chip, you are talking about an outlay of tens of millions of dollars," Walton-Pocock of Geometry told Fortune.
That's why, he said, many Silicon Valley investors just won't touch hardware. "But on the flip side," he added, "I think that also means that the reward to getting hardware semiconductors right can be exceptional as long as you're backing the right founders."
Viswanathan of Celesta Capital, which regularly backs semiconductor companies, reiterated how financially intensive it is for startups that build products, not just apps. "The app doesn't cost a lot of money to build if you actually think about it," he said.
But hardware does, and so the bets—and potential risks—are bigger. "It's not unusual for companies to raise $40 to $50 million, if not more, in the semiconductor area," Viswanathan added.
While the $81 million figure Auradine raised is initially eye-popping, it's important to note that the figure includes $71 million in equity funding and a $10 million loan. And the raise came in two tranches, according to Khemani, the CEO, with the first allotment in the first half of 2022, and the second—only once established goals and checkpoints were met—later that year.
A Bitcoin chip—and then what?
In July, Auradine unveiled its Bitcoin mining system. They were, they said, the first to develop a four-nanometers-in-length silicon transistor built specifically for Bitcoin mining—the process by which computers validate transactions on the Bitcoin blockchain and receive Bitcoin in exchange. (Other rigs in production use a five-nanometer chip.)
Transistors are the electrical on-and-off switches that compose computer processors. If they're smaller, more can be added to a processor, and that processor becomes more powerful. A Bitcoin mining system that uses a smaller transistor could substantially increase a miner's daily winnings, which is why Marathon, the publicly traded Bitcoin miner, was so interested in Auradine from the onset.
However, the startup, which plans to ship its Bitcoin mining system to early-access customers in the third quarter of 2023, has branded itself as something more than just a Bitcoin chipmaker, as a firm that is "reimagining blockchain, A.I., and privacy," per its website.
What that means in practice is ambiguous, as Auradine remains tight-lipped. "You don't want copycats to come up," Navin Chaddha, managing partner of Mayfield, said in reference to the startup's reticence.
In the meantime, after securing its first raise, Auradine is receiving "inbound interest for a follow-on round of funding," Khemani said. While he declined to tell Fortune how much Auradine is planning to drum up, what is clear is that, this time around, he, Kar, and Xu will present investors with more than just a pitch deck.