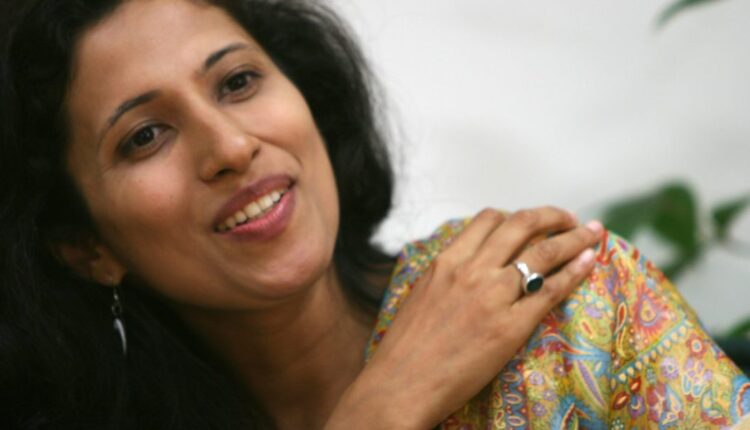 How Chanel's Leena Nair went from fashion outsider to CEO
There are many things luxury brand Chanel has come to be known for—its perfumes, handbags showcasing the company's iconic double-C logo and more recently, its first-ever Indian-origin CEO. 
The French fashion house appointed Leena Nair as its global chief in 2021, and she took over at the helm of the company last year.
At the time, she had no prior experience in fashion or as a CEO, but she did have several decades of leadership experience under her belt at consumer goods giant Unilever.
"If somebody told me I would have the chance to do what I'm doing today, I would not have believed them," Nair said in an interview with the Wall Street Journal published Sunday. 
Nair's last job was as the chief human resources officer at Unilever, the parent of Dove soap and Ben & Jerry's ice cream as well as many others.
The company operates in 190 countries and has a total of 400 brands to its name. Pivoting from that to a luxury label, which charges premium prices and takes pride in its exclusivity, required a change of mindset for Nair.
"One is about mass, mass, mass—get it out there. This is about rarity, precious, fewer. It's a completely different world," she said.
I am so inspired by what @CHANEL stands for. It is a company that believes in the freedom of creation, in cultivating human potential and in acting to have a positive impact in the world.

— Leena Nair (@LeenaNairHR) December 14, 2021
Rise to the top
Nair grew up in the small Indian town of Kolhapur, located a few hours south of Mumbai.
She said her mother would often worry about whether her ambition would stunt her marriage prospects as Nair pursued a Bachelor's degree in electronics and later, an MBA. She was among the few women at her college at the time. 
"I've spent so much of my life hearing that I can't do something because I'm a girl, especially, you know, the first 15, 20, 25 years of my life," she says. "And then afterwards, you stop listening."   
Nair's career began as a summer intern at Unilever in 1992.
She eventually became a management trainee, according to her LinkedIn profile, and for the next decade or so held various managerial roles at Unilever's India operations.
Her run in India ended in 2012, after which she was moved to the British conglomerate's headquarters in London. 
Under her leadership, the number of female managers at the company grew from 38% to 50%, the Journal reported.
She was also part of Unilever's efforts in advancing various social commitments including one to pay living wages to all workers across the supply chain by 2030.
"I've been the first at every job I've done. The first woman, the first brown person, the first Asian, the first Indian—but I don't want to be the last," Nair said.
Nair took over Chanel's top job from Alain Wertheimer, grandson of founder Coco Chanel's business partner, Pierre Wertheimer. In other words, she was joining the company as a rare outsider when it came to both the Chanel family and the fashion industry.
But now, close to two years into her role as the global CEO of the world's second-largest luxury brand, she has made her presence felt.
Nair increased the funding to Fondation Chanel, which supports women and girls in fulfilling their careers, to $100 million annually. The luxury brand has also put sustainability and renewable energy efforts front and center for the climate-conscious future shopper. It launched a sustainability-focused beauty range, N°1 de Chanel, in 2022. 
Under her stewardship, Chanel has also announced plans to cash in on its status among ultra-wealthy shoppers by launching private invite-only boutiques.
In 2025, the company will double the size of its London headquarters, with its teams moving into an 86,000-sq. ft. office space in the city's affluent Mayfair district as its business continues to draw traction among high-end spenders. 
While Nair has been able to make a lot of changes during her short tenure at Chanel, she told the WSJ that it "was never the power or anything that is associated with being CEO" that attracted her to the job.
"What attracts me is the influence and voice a business can have," she said.  
Bouncing back from COVID and IPO plans
The COVID-19 pandemic was a rocky period for Chanel, like many other luxury brands, with retailers across the board hit hard by global shutdowns. 
But the French fashion house has since turned around, reporting a 17% increase in sales, and a 6% increase in profits for 2022 compared to the previous year.
Its $5.7 billion operating profit exceeded pre-pandemic levels after slumping more than 40% in 2020 thanks to the impact of COVID lockdowns.
Chanel's revenue was boosted last year by Europe's spending recovery despite one of its key markets, China, still struggling to bounce back to pre-pandemic levels of luxury shopping thanks to the country's prolonged zero-COVID policy. 
The company has also managed to stay resilient in the face of spiraling costs, with the luxury market widely considered to be fairly inflation-proof as its customer base is generally willing to pay ramped-up prices.
Some Chanel products have also seen a mark-up as high as 74% in the U.K. since 2019, according to investment bank Jeffries.
Nair has argued in the past that such price increases reflect higher labor and raw material costs as well as exchange rate volatility.
Rumors of Chanel considering an IPO have been floated previously as it expands its international footprint, but Nair's vision for the company is for the firm to retain its private ownership.
"We're going to stay a private, independent company," Nair insisted in an April interview with the Financial Times.