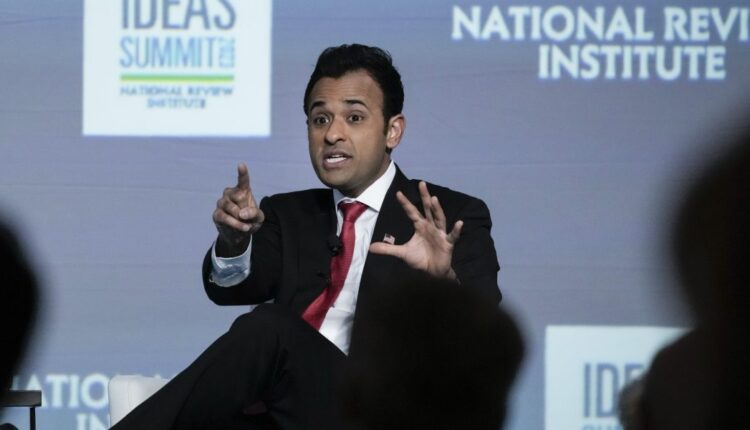 How to watch, stream the Republican debates live online free without cable: Fox News
The 2024 presidential race moves into second gear this evening as most of the Republican candidates gather for the first nationally televised debate. But frontrunner Donald Trump isn't expected to show up.
While that decision likely won't impact Trump's poll numbers, the debate is an opportunity for the pack to shuffle its order and for voters to learn more about the candidates who are hoping to present themselves as an alternative to the polarizing frontrunner. Of particular interest to many voters will be how Florida Gov. Ron DeSantis performs under pressure as well as how Vivek Ramaswamy, who has been seeing a surge in the polls recently, presents himself.
Got questions about the debate? We've got answers.
When is the first Republican primary debate?
The debate will be held Wednesday Aug. 23 at 9:00 p.m. ET.
Who is hosting the first Republican debate?
Fox News is hosting the debate and will simulcast it on a variety of platforms. Fox Business will oversee the second debate.
How long will the first Republican debate last?
The debate is scheduled to last two hours.
Can I watch the Republican debate for free if I don't have cable?
While Fox News is hosting the debate, there are no plans to simulcast it on Fox's broadcast network. That means you won't be able to watch with a HD antenna. Your best bet is either via FoxNews.com or utilizing one of the streaming services below with a free trial.
How can I stream the Republican debate online if I don't have a cable subscription?
If you don't have a cable subscription, the Republican debates will also be airing on FoxNews.com as well as the Fox Nation streaming service and Fox News Audio.
The RNC will also livestream the debate on Rumble, a video-sharing service that's popular with conservatives.
Additionally, there are a number of online streaming optionsto choose from. These include:
Disney+
Disney's bundle of Disney+, Hulu and ESPN+ no longer has a free trial, so you'll have to pay $13 per month for all three combined (or $19.99 per month for no ads on Hulu). Keep in mind that starting Oct. 1, the prices will increase to $15 and $25.
Including Live TV in the bundle bumps the price to $70 per month ($76 with no ads). In October, that jumps to $77 for the ad-supported plan and $90 for commercial free.
Hulu with Live TV
The free trial on this service is no longer offered, as well. It will cost you $70 per month, until October 1, when the price increases to $77.
YouTubeTV
After up to a two-week trial, you can expect monthly charges of $73. YouTube is also now the home of Sunday Ticket. Prices on that service currently range from $300 to $439 for the season, with the current discounts.
Sling TV
Dish Network's Sling lower-tiered "Orange" plan will run you $40 per month. Adding the more comprehensive "Blue" plan bumps the cost to $55 per month. The seven-day free trial has disappeared, but the cord-cutting service is offering 50% off of the first month's bill.
DirecTV Stream
Formerly known as DirecTV Now, AT&T TVNow and AT&T TV, this oft-renamed streaming service will run you $75 per month and up after the free trial option.
Fubo TV
This sports-focused cord-cutting service carries Fox News. There's a seven-day free trial, followed by monthly charges of $75 and up, depending on the channels you choose.
Which candidates will be on stage?
Eight candidates met the qualifications before the deadline Monday evening:
Doug Burgum (North Dakota)
former Gov. Chris Christie (New Jersey)
Ron DeSantis (Florida)
former Gov. Nikki Haley (South Carolina)
former Gov. Asa Hutchinson (Arkansas)
former Vice President Mike Pence
Vivek Ramaswamy, entrepreneur
Senator Tim Scott (South Carolina)
Which candidates won't be at the Republican primary debates?
While there's some debate about whether they met the requirements, it appears the following candidates will not be on the stage:
Michigan businessman Perry Johnson
Miami Mayor Francis Suarez
Former Texas Rep. Will Hurd
Conservative radio host Larry Elder
Wait, what about Donald Trump?
The former president would have qualified for the debates, but has said he's not going. He announced Sunday he would skip the debates since "the public knows who I am". Instead, he will try to steal the spotlight with a pre-recorded interview with Tucker Carlson, which is expected to air on X/Twitter.
Who is moderating the Republican debate?
The debate will be moderated by Bret Baier and Martha MacCallum.
When is the next Republican debate?
Fox Business will host the second debate on Sept. 27. It will originate from the Ronald Reagan Presidential Library in Simi Valley, Calif.