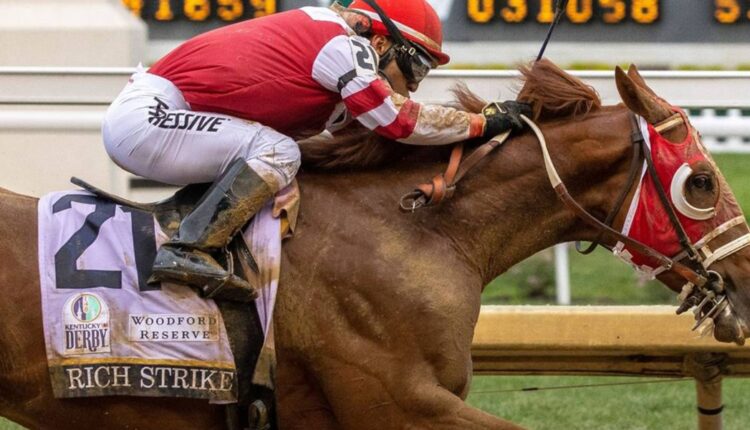 How to watch the 2023 Kentucky Derby for free online—and without cable
Last year saw the second biggest upset in Kentucky Derby history, so all eye will be on Churchill Downs on Saturday to see if the ponies pull off an even bigger surprise.
There has been shortage of drama at the Derby for the past few years. Before Rich Strike's surprise victory in 2022, the race was marred by controversy in 2021 after winner Medina Spirit was disqualified after the horse tested positive for a banned medication. (Medina Spirit would die before the year was over.)
The 149th annual Derby is set to run May 6—and it's often called "the most exciting two minutes in sports." And while it's a thrilling race, it's one that's so short it can be easy to miss. Here's how to be sure you don't miss a second.
When is the 2023 Kentucky Derby?
The Kentucky Derby will take place on Saturday, May 6.
When is post time for the 2023 Kentucky Derby?
Like the Super Bowl, there's an extensive pre-game for the Derby. If you'd prefer to skip all of that, post time is estimated to take place at 6:57 p.m. ET. Make sure you've got your mint julep already prepared. The race doesn't last long.
Where can I watch the Kentucky Derby?
NBC will carry the Derby this year—and it's making the most of the event. Coverage will begin at 12:00 p.m. ET and run all the way through 7:30 p.m. ET.
Can I watch the 2023 Kentucky Derby online?
Yep. NBC will offer a live stream on NBCSports.com and there are plenty of other options, including:
Peacock
NBC's streaming service will give you access to several games, including all Sunday night matchups. You can get a seven-day free trial, followed by a $5 or $10 monthly charge. (The free version of Peacock does not include live sports.)
Disney+
Disney's bundle of Disney+, Hulu and ESPN+ no longer has a free trial, so you'll have to pay $13.99 per month for all three combined (or $19.99 per month for no ads on Hulu). Including Live TV in the bundle bumps the price to $70 per month ($76 with no ads).
Hulu with Live TV
The free trial on this service is no longer offered, as well. It will cost you $70 per month.
YouTubeTV
After up to a two-week trial, you can expect monthly charges of $73.
Sling TV
Dish Network's Sling recently increased its prices. The lower-tiered "Orange" plan will now run you $40 per month. Adding the more comprehensive "Blue" plan bumps the cost to $55 per month. (A $5 per month increase for each.) The seven-day free trial has disappeared along with the price increase, but the cord-cutting service is offering 50% off of the first month's bill.
DirecTV Stream
Formerly known as DirecTV Now, AT&T TVNow and AT&T TV, this oft-renamed streaming service will run you $70 per month and up after the free trial option.
Fubo TV
This sports-focused cord-cutting service carries broadcast networks in most markets. There's a seven-day free trial, followed by monthly charges of $70–$100, depending on the channels you choose.
Which horse is favored to win this year's Kentucky Derby?
Forte is the favorite right now, with 3-1 odds, followed by Tapit Trice at 5-1 and Angel of Empire at 8-1, according to CBS Sports. Reincarnate and Continuar are the long shots, each with 50-1 odds.
When are the other two races in the Triple Crown?
After the Derby is over, The Preakness Stakes is up next. It takes place on May 20 at Pimlico Race Course in Baltimore. The final leg of the Triple Crown – The Belmont Stakes – will be run on June 10 at Belmont Park in Elmont, NY.