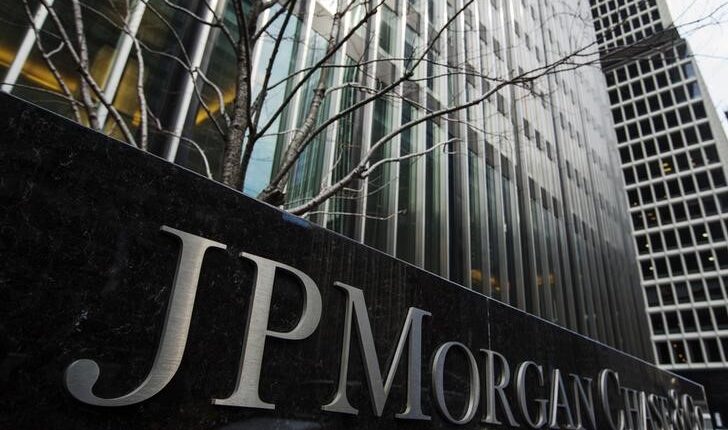 JP Morgan tops deposit growth despite turbulent financial climate By Investing.com
In a challenging financial environment, marked by the failure of three mid-size US banks in March and an anticipated worst year for banks since 2008, JP Morgan has demonstrated resilience. The multinational investment bank, led by CEO Jamie Dimon, has grown through strategic acquisitions and has seen a surge in deposits, according to Zacks Equity Research.
Notably, JP Morgan's revenue growth has been accelerating, as indicated by InvestingPro Data, with a revenue growth of 18.12% LTM2023.Q3 and a quarterly revenue growth of 23.13% in FY2023.Q3. The bank's market cap stands at an impressive 422.23B USD, reflecting its robust financial position. For more detailed metrics and insights, a visit to InvestingPro is highly recommended.
Despite nearly a 20% decline in the SPDR S&P Bank ETF and a 29% fall in the SPDR Regional Banking ETF, JP Morgan has managed to thrive. The bank has made significant acquisitions such as the failed First Republic Bank (OTC:) domestically and a substantial stake in Brazil's C6 Bank internationally. These strategic moves have led to an increase in deposits. Specifically, JP Morgan added $85 billion in deposits year-over-year, leading the deposit growth rankings.
JP Morgan provides a comprehensive range of financial services to various entities including individuals, businesses, and governments. Its offerings range from asset management and treasury services to retail banking services such as mortgages, credit cards, and personal loans. The bank also facilitates capital raising, mergers and acquisitions (M&A), and trading in diverse markets.
InvestingPro Tips highlight that JP Morgan has raised its dividend for 13 consecutive years and has maintained dividend payments for 53 consecutive years, a testament to its steady income generation. Moreover, the bank's P/E ratio stands at 8.58, indicating that it is trading at a low P/E ratio relative to near-term earnings growth. This, coupled with the fact that 8 analysts have revised their earnings upwards for the upcoming period, suggests potential profitability in the coming year.
Zacks Equity Research singled out JP Morgan as its Bull of the Day due to its strong performance amidst challenging times. Other companies scrutinized by the firm included Cracker Barrel (NASDAQ:), Carrols Restaurant Group (NASDAQ:), Casey's General (NASDAQ:) Stores, and Carvana. Cracker Barrel was named as its Bear of the Day. To get more such InvestingPro Tips, consider exploring the InvestingPro product that includes 12 more tips for JP Morgan and other companies.
This article was generated with the support of AI and reviewed by an editor. For more information see our T&C.