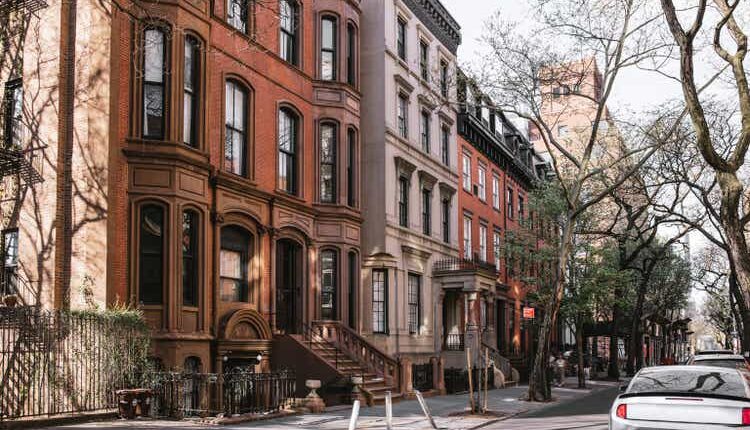 Looking to stay in NYC for a visit? Good luck using Airbnb (NASDAQ:ABNB)
Carol Robinson has been renting out rooms in her Brooklyn home for years through Airbnb (NASDAQ:ABNB). It has supplemented her part-time income, and she loves playing host to families, artists and students. The money, and her guests, also helped her get through a divorce.
The good times, however, appear to be coming to an end this week as a new regulation goes into effect in New York, effectively banning short-term rentals.
Robinson, who asked not to have her real name used for fear of reprisal, promised she'll do everything she can to comply with the laws, draconian though they may seem, because she can't afford not to.
"I absolutely cannot live without it. Not 100%. I have a part time job, but I'm 66 and I really want to retire," Robinson said in a phone interview last week. "Should I become homeless because the city won't let me rent out my son's bedroom?"
Robinson joins thousands of other New Yorkers set to lose the right to rent out spare rooms and studio apartments as strict rules go into effect on September 5. Airbnb could lose an estimated 1% of annual revenue and one of the world's most well-known cities could end up setting a precedent that destroys the benefits of the sharing economy that has revolutionized the way we live.
Shares of ABNB are up 56% so far in 2023, and down more than 11% over the past month.
Not 100% prohibited
The city has argued that short-term rentals take away much-needed affordable housing stock. Co-op boards have also railed against short-term rentals, often prohibiting them, and hotels are surely no big fans.
Hosts will still be permitted to operate, so long as they are registered with the Mayor's Office of Special Enforcement (OSE) and follow a battery of rules, among them: You cannot rent out an entire apartment or home to visitors for less than 30 days. If you do so, you must be present during your guests' stay. You may have up to two paying guests staying in your household for fewer than 30 days, only if every guest has free and unobstructed access to every room, and each exit within the apartment.
As a result, hosting short-term rentals is in effect dead for most hosts, of which there are many, if fewer than before the pandemic.
The number of active rentals in New York is currently more than 26,800, of which 84% are listed on Airbnb (ABNB). That compares to nearly 38,000 in the second quarter of 2020, according to AirDNA.
Skift, a platform that provides news and insights on the travel sector, has been following the saga between Airbnb (ABNB) and the city closely, and calculated that New York represents 1% of the company's annual revenue.
The NYC situation shouldn't have a material adverse effect on ABNB's results and it may lead to an increase in offerings and opportunities in surrounding communities, like Jersey City, Hoboken and Westchester, according to Dennis Schaal, founding editor at Skift.
"Airbnb will basically be banned in NYC," Schaal said in a video interview last week. That's not least because the city has been slow to assess applications.
Registration continues
The mayor's Office of Special Enforcement implemented its short-term rental registration system in May.
"The system saw a slow but steady stream of host applicants from May to August, and as of 8.28.23, 3,250 hosts have submitted applications for registration," a city spokesperson wrote in an email. About half of those were submitted in the last three weeks, shortly after a judge dismissed a lawsuit by Airbnb over the law.
The municipal office has reviewed more than 800 applications, granted 257, returned 479 to applicants for additional information or corrections and has denied 72. About half of the applications were submitted in the last three weeks.
"Starting September 5, 2023, OSE's initial phase of Local Law 18 enforcement will focus on collaborating with the booking platforms to ensure they are using the city's verification system, that all verifications are occurring correctly, and that the platforms have stopped processing unverified transactions," the spokesperson said.
"OSE will continue to meet its enforcement responsibilities with a focus on responding to submitted complaints of illegal occupancy."
Hosts will definitely find a way around some of these regulations, Schaal said. Still, "It's gonna drop off a cliff."
Outlier
New York's regulations make it an outlier, according to an Airbnb representative. Cities like Seattle and San Diego have managed to implement regulations that still allow hosts to operate.
Instead, the New York rules make no distinction between a family renting a room to make ends meet and an unscrupulous landlord renting an entire building as if it were a hotel via ABNB. Violators could face thousands of dollars in fines, as could ABNB.
The grassroots group Restore Homeowner Autonomy & Rights, or RHOAR NYC, is advocating for a differentiation for one- and two-family homeowners to be able to even apply for registration.
Robinson bought her home long before Brooklyn became Brooklyn. She makes a point to rent to starving artists, students and those new to the city ready to start pursuing their dreams — a type of affordable housing, if you will. Robinson is more than attune to the needs of her fellow New Yorkers and the lack of dwellings. The current regulations, however, are not the answer.
"After 35 years, I am not picking up and leaving," she said. "I'm a progressive, but you don't solve this housing crisis by picking on two-family homes. These particular regulations are insanely stupid and contradictory."