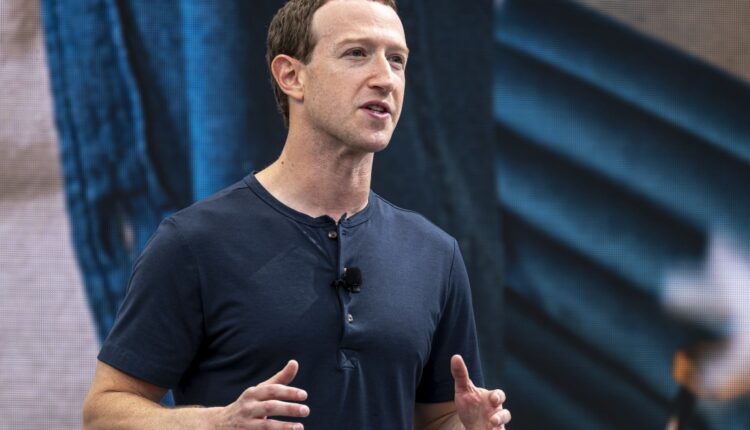 Meta's talk of uncertainty next year and 'volatility in the macro landscape' sends its shares tumbling
Meta Platforms warned that its advertising business depends heavily on the macroeconomic environment for spending, sending shares down after an otherwise upbeat earnings report.
"We are very subject to volatility in the macro landscape," Chief Financial Officer Susan Li said on a call with investors. "The revenue outlook is uncertain" for 2024.
Shares slid about 3% in extended trading.
Meta had appeared to recover from struggles in its ad business that began last year. Third-quarter sales were $34.2 billion, the company said Wednesday, compared with the average analyst estimate of $33.5 billion. 
Earlier this year, the company cut thousands of employees and a wide range of projects, while sharpening its focus on improving its advertising and algorithms with artificial intelligence. Talk of the metaverse, the virtual reality world that Chief Executive Officer Mark Zuckerberg renamed the company for, has been less frequent, particularly in front of the skeptical investor community.
Meta's core advertising business has returned to growth. On Instagram and Facebook, Meta has been pushing short-form video, which it calls Reels. While that's helped boost the time spent by users scrolling through the app, Meta's advertisers are taking a while to get used to the new format.
Investors have meanwhile been closely scrutinizing Meta's spending on projects like virtual reality and artificial intelligence technology. The tech giant on Wednesday lowered its spending expectations for 2023, to between $87 billion and $89 billion.
Cost cutting has helped widen operating margins to 40%, compared with 20% in the same period last year. Meta posted third-quarter earnings per share of $4.39, compared with $1.64 in the prior year.
For 2024, Meta sees its expenses increasing to between $94 billion and $99 billion. Most of those dollars will go toward its continued expansion of technology infrastructure to run complex AI and VR tools, and hiring more workers for "higher-cost technical roles" to build those products, according to its statement.
Meta's approach to the AI race has been different than its Big Tech peers. For the most part, it's unveiling research or large language models — the technology that underpins AI chatbots — for free to be used by developers. Meta thinks this open strategy will help improve the technology faster.
At its developer conference in September, the company introduced its first generative-AI features for consumers, including a number of chatbots and image-editing tools for platforms like Instagram and Facebook. 
At the event, Zuckerberg also broadened his usual commitment to the metaverse, a fully virtual world, to include augmented reality, which overlays computer generated images on the real world. The company announced an updated version of the smart glasses that it developed with sunglass maker Ray-Ban, in addition to its new VR headset, the Quest 3.
In Wednesday's report, Meta said Reality Labs, the division that makes smart glasses and headsets, posted an operating loss of $3.7 billion on $210 million in revenue. Analysts had expected an operating loss of $3.94 billion on $313.4 million in revenue, on average.
Meta's overall monthly user numbers rose 7% to 3.14 billion in the last month of the quarter, compared with the 3.05 billion estimate from analysts.