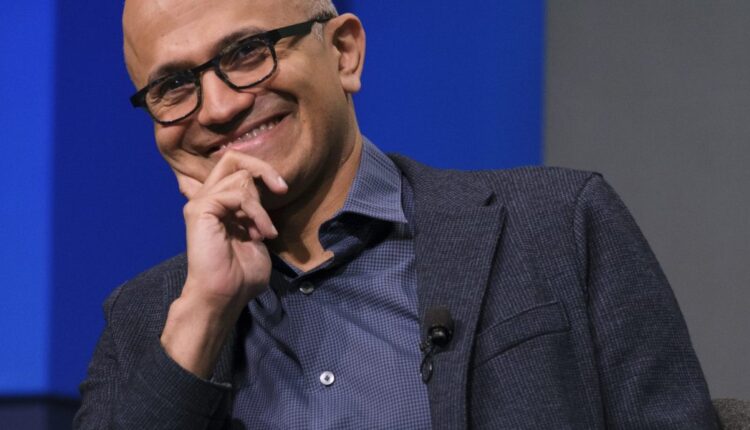 Microsoft earnings show Wall Street AI's financial heft
AI hype has consumed the business world—and driven some consumers to the point of AI fatigue—but Wall Street is still obsessed with the technology and eager to learn what it will mean for companies' bottom lines. 
The topic of AI dominated Microsoft's call with investors and analysts after the tech giant and OpenAI investor published stellar earnings on Tuesday. Of the eight analysts that executives took questions from, six asked about AI, the company's Copilot AI product, or how AI is shaping the overall business. That curiosity is no surprise. For all the AI noise, few earnings reports have yet to quantify the power of the technology. 
In an Oct. 18 report to Wolfe Research clients about Microsoft—before the company's latest earnings—analyst Alex Zukin warned against putting too much stock in AI without the numbers to back up the company's claims that the technology is transformative. "While last quarter we were all busy revising up our estimates for how big Copilot can be, it seems investors have since tripped and fallen into the trough of AI disillusionment questioning both the actual functionality, the profitability, and ultimately the durable and sustainable competitive advantage," Zukin wrote, as MarketWatch reported. 
Microsoft's Tuesday earnings report was one of the first in which analysts could start to see the business implications of full-blown AI adoption. 
In the most recent quarter, which ended Sept. 30, Microsoft beat analyst expectations across the board. It generated $56.5 billion in revenue, $2 billion higher than the consensus estimate. Adjusted earnings per share registered at $2.99, compared to expectations of $2.66. Since this time last year—right before OpenAI launched ChatGPT and sparked the AI frenzy—Microsoft's profit increased 27%. The company's stock rose 6.2% in after-hours trading, at its peak costing $350.90 per share.
Microsoft's growth in the most recent quarter stemmed from the business unit the company labels "Azure and other cloud services," which houses its investments in AI. Of the segment's 29% growth from the previous fiscal year, 3 points come from AI services—thanks to "higher-than-expected AI consumption," CFO Amy Hood said during the call. "While the trends from prior quarters continued, growth was ahead of expectations, primarily driven by increased GPU capacity and better than expected GPU utilization of our AI services," Hood said, referencing the computing technology called graphic processing units (GPUs) that render images and are essential in AI. More than 18,000 organizations use Azure AI services, which include speech-to-text and facial recognition features, CEO Satya Nadella added.
In the quarter, Microsoft announced the integration of its AI-powered Copilot assistant into its roster of office tools, including web browsers, Windows 11 desktop software, and Microsoft 365 apps. The company launched Bing Chat, also powered by AI, in recent months as a new way to search the internet. Copilot in 365 for businesses will roll out on Nov. 1. 
Three analysts quizzed executives on how AI will impact Microsoft's margins and other growth metrics in the future. Brent Thill from Jefferies put it simply: "Can you sustain double-digit growth, especially with the stronger AI boost coming in the next several quarters?" Hood answered, "We feel good about our ability to execute." 
"With copilots, we are making the age of AI real for people and businesses everywhere," Nadella said in the earnings statement. "We are rapidly infusing AI across every layer of the tech stack and for every role and business process to drive productivity gains for our customers."