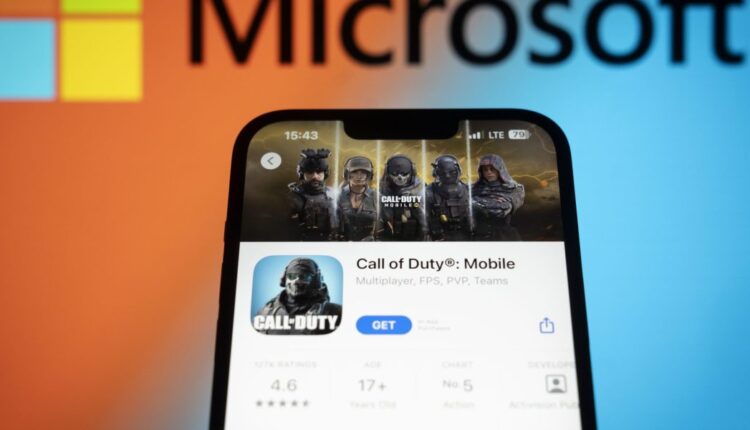 Microsoft gets second UK look for $69bn Activision merger
Microsoft Corp.'s $69 billion Activision Blizzard Inc. acquisition got a new chance at winning approval from UK regulators after the tech giant submitted a substantially different deal to the country's antitrust watchdog.
In a rare move, the Competition and Markets Authority will open a new deal probe after Microsoft said it would give Ubisoft Entertainment SA rights to distribute Activision games globally, potentially easing concerns the regulator had over dominance in the cloud gaming market.
In Paris, Ubisoft jumped as much as 9.2% on Tuesday, the biggest intraday move since February. Microsoft was little changed in US premarket trading while Activision was up by 1.1%. Activison is currently trading around $91 a share versus an offer price of $95.
A reconsideration of a CMA merger decision at this stage is incredibly rare and follows a series of dramatic twists and turns in the deal's global regulatory battles. The deal, until recently thought moribund, gained unexpected momentum after the UK agreed to review new evidence. In the US Microsoft beat the Federal Trade Commission's court challenge over the deal. The European Union cleared the deal with behavioral remedies in May.
"We had a real concern previously that Microsoft would be able to control the way that that market was going to develop," Sarah Cardell, chief executive officer of the CMA, said in an interview on Bloomberg Radio. "What we see with this new deal, and we will have to test it carefully through our review, is that rather than Microsoft being able to control how those cloud streaming rights are used, that control will shift to an independent company."
As it navigated regulatory obstacles, Microsoft missed the July 18 deadline in the original agreement — signed in January 2022 — to close the acquisition. Activision agreed to extend the timeline until Oct. 18 to give Microsoft more time to iron out the remaining hurdles.
Microsoft asked the UK regulator in July to reconsider its April veto on the grounds that the situation had "materially changed," given the US court decision and a subsequent deal it reached to license Activision blockbuster title Call of Duty to rival Sony Group Corp.
"Under the restructured transaction, Microsoft will not be in a position either to release Activision Blizzard games exclusively on its own cloud streaming service — Xbox Cloud Gaming – or to exclusively control the licensing terms of Activision Blizzard games for rival services," Microsoft said in the statement. 
Today we submitted a restructured proposal to the CMA for approval of our Activision Blizzard acquisition under UK law. This new proposal also honors our prior commercial and regulatory commitments. Read more here: https://t.co/t0UBcouTP9

— Brad Smith (@BradSmi) August 22, 2023
Ubisoft said in its own statement that the rights, which "will exist in perpetuity," will be added to the Ubisoft+ subscription service.
The deal will give Ubisoft rights to distribute Activision games globally, via its Ubisoft+ subscription platform, as well as the ability to license the titles back to Microsoft and other cloud gaming companies and console makers. It's good for current and future games released for the next 15 years after the Microsoft-Activision deal closes, and the rights will exist in perpetuity.
The CMA has said it prefers structural remedies to address concerns about mergers that hinder competition. To satisfy that preference, Microsoft and Activision have been seeking a divestiture that wins over regulators without harming what Microsoft considers the key parts of the acquisition. The software giant has publicly ruled out selling the Call of Duty franchise, for example.
Ubisoft will make a one-off payment to compensate Microsoft for the rights in addition to a "market-based wholesale pricing mechanism" that will support pricing based on usage. The deal has also been structured so that Microsoft will be able to honor its preexisting streaming agreements in the European Economic Area, which it struck to comply with demands from the European Commission, the company said.
The phase one probe will now start and the CMA set a statutory deadline of Oct. 18.