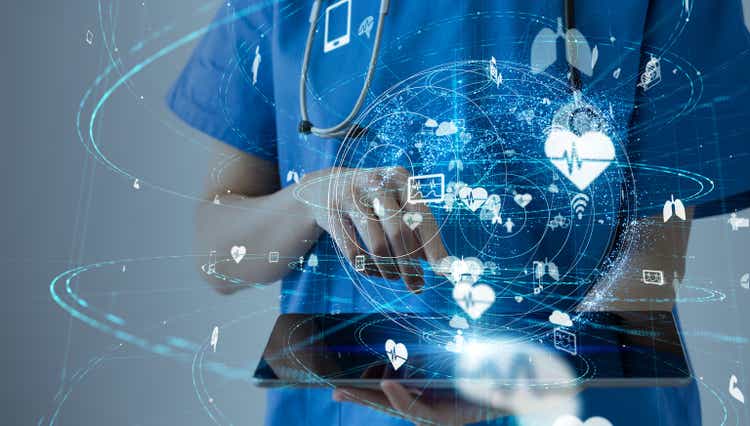 Morgan Stanley bullish on SI-Bone, downgrades Stevanato, Integra, Agiliti (SIBN)
Morgan Stanley has added SI-Bone (NASDAQ:SIBN) to its list of top medtech picks in the small-to-medium capitalization space and upgraded NeuroPace (NPCE), but downgraded Stevanato (STVN), Sight Sciences (SGHT), Integra (IART) and Agiliti (AGTI).
The investment bank said it selected SI Bone for its top picks list in part for the company's "multi-pronged growth story" and "ability to drive beats/raises." It added that it now saw a "clearer pathway" for the company to achieve EBIDTA break-even. The bank has an overweight rating on the stock, with a price target of $30.
Morgan Stanley has also warmed up to NeuroPace (NPCE), upgrading the stock to equal weight, commenting that its prior underweight rating had been based on "persistent pandemic headwinds" that it now sees as waning. The bank also cited patient funnel stabilization, improved volumes of the company's RNS system and demonstrated cost discipline.
The bank added it now had "higher conviction" in NeuroPace's near-term commercial trajectory, noting that the company has also extended its cash runway ahead of a "key" clinical catalyst, the NAUTILUS study. The bank set a price target of $6 for the stock.
On the flip side, Stevanato was downgraded to equal weight from overweight, with the bank commenting that "market expectations have brought shares close to fair value." The bank's price target for the stock is $34, noting that it has already rallied over 75% year-to-date.
Morgan Stanley said it continued to see Stevanato achieving 10% topline growth over 2023 to 2025 and EBIDTA margins of 29% by 2025.
The investment bank also lowered its rating on Sight Sciences to equal weight, pointing to a "heightened risk profile" due to reimbursement issues for the company's OMNI device for the treatment of glaucoma.
"Although we believe recent proposals will be overturned, we think the stock now factors in this expectation, even after falling around 30% since May," the bank said in its note dated Aug. 24. Morgan Stanley lowered its price target to $8.40.
Integra, which issued a recall earlier this year for products made at its Boston plant, was downgraded to underweight, as the bank saw "limited signs of growth or profitability inflection" within the next six to 12 months. Morgan Stanley has a price target of $44 on the stock.
Agiliti was likewise cut to underweight, with the bank stating that while it had viewed 2023 as a "transition year" for the medical equipment management company, "recovery and upside to profitability now looks more labored." The bank added that it saw a "less attractive profile" relative to the company's peers and lowered its price target to $10 from $15.