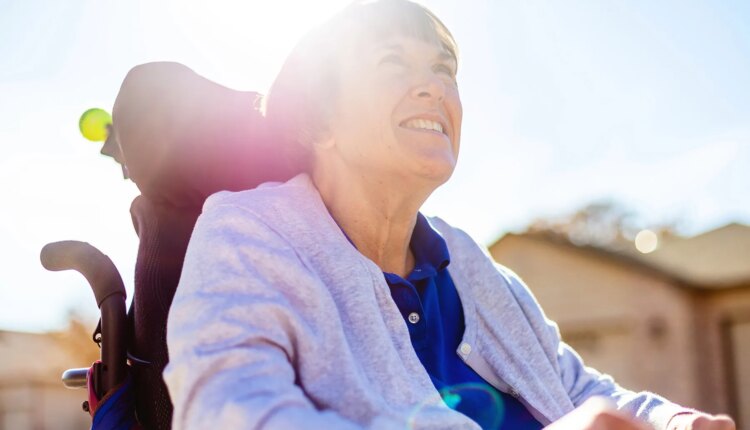 Multiple Sclerosis and Health Disparities
By Jacqueline Rosenthal, MD, as told to Keri Wiginton
Multiple sclerosis (MS) affects everyone in a different way. But let's talk a little bit about the differences we see between racial and ethnic groups when it comes to diagnosis, symptoms, and treatment. I'll preface that by saying we need a lot more research in this area. 
What we've seen in the clinic, and what the literature shows, is that Black people with MS don't do as well. What I mean by that is their disease is more aggressive from the start. For example, they have more spinal cord involvement, which is often tied to disability. 
Relapses also tend to be more frequent and severe in this group. And Black people living with MS are less likely to have a complete recovery between attacks. Those with relapsing-remitting MS also tend to advance to progressive MS faster than other groups. 
We also see more severe disease in the Hispanic population. This may be partly due to how MS affects this group. We see more involvement with the optic nerve and spinal cord. And whenever your vision and spinal cord are involved, you're more likely to have disability. 
 That leads into the question of why. How much of this difference is caused by biology? How much is due to outside factors? Many MS specialists would lay heavy blame on the social and economic disadvantages that certain groups face. But we don't know the exact cause of these disparities. 
Even if we don't have all the answers, there are ways we can better understand and overcome challenges to care. 
Racial and Ethnic Disparities in Multiple Sclerosis
We know that Black people with MS are diagnosed later in their disease course. There's also a difference in prescribing patterns, with a lot of minority groups going untreated. And when they do get care, they're often undertreated. 
For example, Black people living with MS are less likely to start off with the aggressive treatment they need. This might lead to poorer health outcomes. And people who belong to minority groups generally face more barriers to care. Some of these hurdles include less access to health insurance, more financial hardships, and transportation troubles.
All these things limit one's ability to see a neurologist or MS specialist early. And we do see that Black people living with MS are less likely to get into a comprehensive MS center right away. And by the time they get there, they have more disability. 
Misinformation, Medical Mistrust, and Stigma
There are other reasons why MS may get missed in certain groups. That includes the faulty idea that people with this disease tend to look a certain way.
I would argue that most MS specialists know people of any race or gender can get this disease. But some people still see it as an illness that mostly affects young white women. Unfortunately, that misconception remains even among some health care providers.
And even though treatment for MS has gotten a lot better, there's still a stigma around being sick. There may also be cultural differences in how people think about chronic disease or neurological problems. Then you dive into the mistrust of the medical community. 
This delays diagnosis and treatment. 
Multiple Sclerosis Treatment Fears
Disease-modifying therapies (DMTs) are the treatment of choice for people with relapsing-remitting MS. These drugs change how the immune system works. And they've been shown to lessen the chances of relapse and slow the progression of MS. 
It's best to start DMTs early in the disease course. But I sometimes see people with relapsing-remitting MS who want to try a drug-free approach at first. This happens among all racial and ethnic groups, but the topic might come up a little more often in people from the Hispanic and Black communities. 
I try to combat any treatment worries with education. Though, it can take time to put people at ease. Maybe we don't start on a medication after the first visit. But maybe by the second one, we can get to an understanding of the importance of disease-modifying treatment. 
Green Flags When Looking for Doctors
You can live a full life with MS. But until there's a cure, you'll need medical care for the rest of your life. Because I'm a minority, I know that some people may feel more comfortable with me right off the bat. But it's important for doctors and people with MS to build a relationship based on trust. 
How do you know when a partnership is right? Listen to your gut. 
You should get the feeling that it's OK to ask your doctor lots of questions. And you should feel like you leave each visit with a better understanding of what's going on with your body. I can't tell you how many people I see – who are referrals – who've had MS for years and don't really have a good grasp of the illness they're living with. 
On one hand, your doctor should go over the medications used to try to slow the disease itself. But you also need to cover how to manage symptoms caused by MS. These are all the things that will help you get through your day so you can go to work, hang out with friends and family, and stay involved in your community.
If your quality of life and overall well-being aren't discussed, then I'd say that's a problem. And maybe that's not the right doctor for you. 
Learn as Much as You Can 
Ask your doctor to explain what MS is. Learn how it affects your body, what symptoms you may get, and what your treatment choices are. Knowledge helps you advocate for yourself and make better-informed decisions.
Keep in mind that learning about MS is a process. That first visit is always a shock. Some things register and some things may not. But if you know more about your MS – what type you have, where your lesions are – you'll know what questions or topics to bring up at your next visit. 
And take advantage of all of your MS resources. There are often ways to gain access to treatment even if you don't have health insurance or you have trouble paying for care or getting to your appointments. For example, you can get help for transportation or copay assistance for medication. 
While you'll need to be selective in your search, there are also good MS resources online. I encourage people to look at the websites of the National Multiple Sclerosis Society or the Multiple Sclerosis Association of America. Anything that ends in .edu or .org is usually safe.
I don't think enough people know this kind of help is out there. But if the MS and health care communities can spread that education a bit more, that may help to address some of these disparities and inequities that we're seeing.