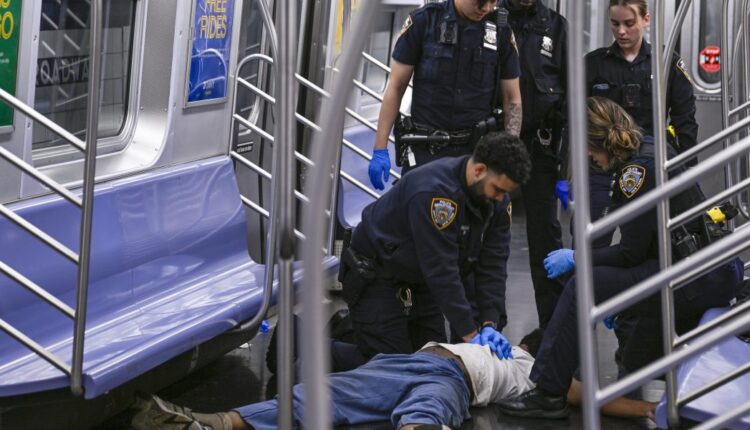 NYC subway chokehold case: outrage over man's death
The choking death of a man with apparent mental illness in the New York subway was setting off powerful reactions Thursday, with some calling the chokehold a homicide and others defending the passenger's action as a defense against disorder.
New York has become one of the nation's safest cities but the emotional responses recalled the metropolis of decades ago, when residents felt besieged by crime and fatal vigilantism made national headlines.
Manhattan prosecutors promised a "rigorous" investigation into whether to bring criminal charges in the death of the Black man, who was tackled by fellow passengers and put in a fatal chokehold by a white man who was been described as a Marine veteran.
Jordan Neely, 30, died Monday after an early-afternoon confrontation aboard a train beneath Manhattan. He had been in apparent mental distress and shouting at fellow passengers when another rider wrapped his arm around his neck and pinned him on the floor. Two other passengers also helped restrain Neely.
The medical examiner's office on Wednesday determined that Neely died from compression of the neck, but the office said any determination about criminal culpability would be left to the legal system.
No one has been arrested but the Manhattan district attorney's office said late Wednesday it would review autopsy reports, as well as "assess all available video and photo footage, identify and interview as many witnesses as possible, and obtain additional medical records."
Police questioned a 24-year-old Marine veteran, who the video showed holding Neely in a headlock for at least 3 minutes — perhaps longer — but released him released without charges.
It was not clear why passengers had moved to restrain Neely. One witness, a freelance journalist who was on the train and recorded Neely becoming unconscious as he was restrained, said that while Neely was acting aggressively and threw his jacket, he hadn't attacked anyone.
During an appearance on CNN on Tuesday night, Mayor Eric Adams, a former police captain, said there were still too many unknowns.
"We don't know exactly what happened here," Adams said, adding that "we cannot just blatantly say what a passenger should or should not do in a situation like that, and we should allow the investigation to take its course."
A group of protesters gathered Wednesday afternoon in the station where Neely died to call for an arrest. Neely was recognized by some New Yorkers as a Michael Jackson impersonator who sometimes busked at subway stations.
The Rev. Al Sharpton demanded in a statement that Neely's death be investigated as a potential case of manslaughter. Sharpton referenced the Bernhard Goetz case in 1984, in which a white gunman was convicted of a weapons offense after he shot four Black men on a subway train.
"We cannot end up back to a place where vigilantism is tolerable. It wasn't acceptable then and it cannot be acceptable now," Sharpton said.