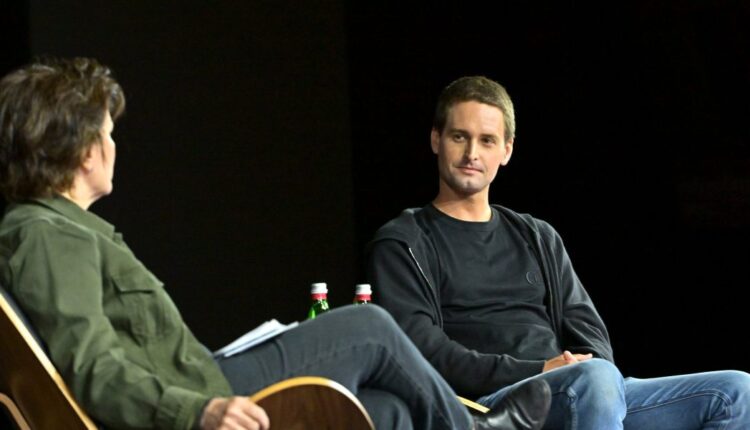 Snap earnings: Stock wobbles as it withdraws guidance due to Israel-Hamas war
Snap, parent company to the messaging app Snapchat, is bracing for the impact of the war in the Middle East. The technology company posted its third-quarter earnings on Tuesday afternoon, but it did not provide guidance for the following quarter, saying, "Due to the unpredictable nature of war, we believe it would be imprudent to provide formal guidance for Q4."
Immediately following the release of its earnings report, Snap's shares briefly jumped from $9.70 per share at market close to a high of $10.91 and then a low of $9.30 in after-hours trading. As the market digested the firm's earnings and (lack of) guidance, Snap shares largely recovered to $9.65.
Snap said spending pauses in a "large number" of advertising campaigns following the onset of the Middle East war—which began on Oct. 7 after the Islamic militant group Hamas launched an unprecedented attack on Israel—had been a "headwind" to its revenue this fourth quarter.
Snap's "internal forecast" for the fourth quarter assumes a revenue range of $1.32 billion to $1.375 billion, and it estimates that adjusted EBITDA will come in between $65 million and $105 million.
"While some of these campaigns have now resumed, and the impact on our revenue has partially diminished, we continue to observe new pauses and the risk that these pauses could persist or increase in magnitude remains,"  the company said in a press release. 
Google parent company Alphabet, which also reported Q3 financial results on Tuesday, was asked whether the war is having any impact on its advertising business. Alphabet executive Ruth Porat dodged the question, noting that the company's primary focus has been helping its employees in the region and about how Alphabet "products can be as helpful as possible in this very painful time," concluding that she had "nothing really to add."
As for the quarter that was, Snap's adjusted EPS of 2 cents beat estimates of a 2-cents loss, while revenue was also a beat, at $1.19 billion compared to expectations of $1.11 billion. On a GAAP basis, however, the company's net loss widened to $368 million or a loss of 23 cents per share.
Snap CEO Evan Spiegel said the company had "positive growth" in the third quarter, citing cost-cutting efforts. It said during the summer that it would lay off 20% of its workforce, or roughly 1,200 workers. In September, Snap disclosed that it had shut down its augmented reality enterprise business, as another 170 employees left the company.
Snap also said that COO Jerry Hunter is retiring after seven years at the company and it has authorized a stock repurchase program of up to $500 million.
Subscribe to the Eye on AI newsletter to stay abreast of how AI is shaping the future of business. Sign up for free.