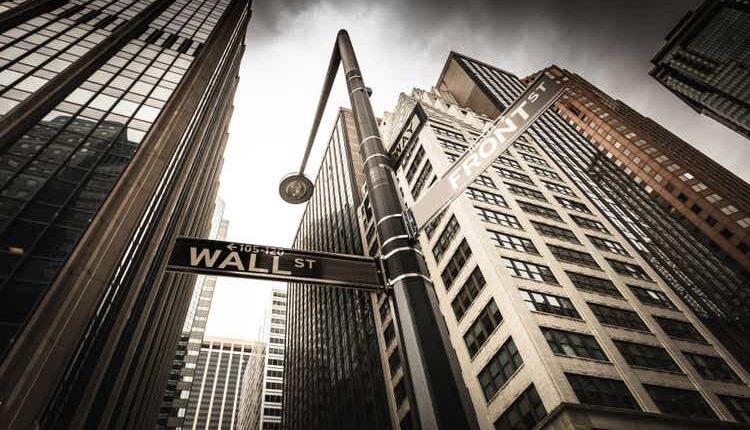 S&P 500 follows up best week of 2023 with a +1% advance this week (NYSEARCA:SPY)
The S&P 500 (SP500) on Friday advanced 1.31% for the week to close at 4,415.24 points, posting gains in four out of five sessions. Its accompanying SPDR S&P 500 Trust ETF (NYSEARCA:SPY) added 1.36% for the week.
After notching its best weekly performance of 2023 last Friday, the benchmark index extended those gains this week as markets remain convinced that the Federal Reserve is done hiking rates. A barrage of Fed speakers tried to tone down the market expectations, most notably among them chair Jerome Powell.
The central bank chief's hawkish remarks at a conference hosted by the International Monetary Fund on Thursday weighed on sentiment enough to see the S&P 500 (SP500) snap an eight-day win streak, its longest such run since November 2021. However, markets bounced back strongly on Friday as traders largely appeared to brush off Powell's comments.
"Powell's tone may have been harshened by a group of climate change protestors that interrupted his presentation, as he resorted to colorful language when directing ballroom ushers to close the door while refusing to close the other one — the door of further possible rate hikes," José Torres, senior economist at Interactive Brokers (IBKR), said.
With a dearth of economic data, investors focused on the third quarter earnings season this week. Meanwhile, the fixed-income markets garnered a chunk of attention, following a closely watched $24B 30-year note auction on Thursday that tailed by its biggest margin ever. That sparked concerns over demand and about the possibility of a weakening in longer-term debt appetites.
The earnings season will begin to slow down from next week after seeing its busiest stretch, especially on Wednesday and Thursday. Walt Disney (DIS) was the most prominent name to report quarterly results. The theme park and entertainment giant's performance and additional $2B in cost cuts sent its stock soaring about 7%.
Other companies that announced their financial figures this week included ride-hailing giant Uber (UBER), Disney's (DIS) competitor Warner Bros. Discovery (WBD), kids gaming platform Roblox (RBLX), the world's largest generic drugmaker Teva Pharmaceutical Industries (TEVA) and British chip designer Arm's (ARM) first quarterly report post market debut.
"With ~90% of companies having reported thus far, earnings have held up better than expected heading into the reporting season. 75% of S&P 500 companies that have reported beat earnings estimates (vs 68% average over the last 4 quarters); however, only 57% are beating revenue estimates (vs 66% average over the last 4 quarters). Earnings growth y/y stands at 3.3% (9.4% ex-Energy), while sales growth stands at 1.3% (3.8% ex-Energy)," JPMorgan's Daniel Motoc said.
Turning to the weekly performance of the S&P 500 (SP500) sectors, six of the 11 ended in the green, led by an outsized jump of nearly 5% in Technology. Energy, Utilities and Real Estate were the top three losers. See below a breakdown of the performance of the sectors as well as their accompanying SPDR Select Sector ETFs from November 3 close to November 10 close:
#1: Information Technology +4.76%, and the Technology Select Sector SPDR ETF (XLK) +4.52%.
#2: Communication Services +2.21%, and the Communication Services Select Sector SPDR Fund (XLC) +1.35%.
#3: Consumer Discretionary +0.92%, and the Consumer Discretionary Select Sector SPDR ETF (XLY) +0.74%.
#4: Industrials +0.85%, and the Industrial Select Sector SPDR ETF (XLI) +0.94%.
#5: Financials +0.28%, and the Financial Select Sector SPDR ETF (XLF) +0.38%.
#6: Consumer Staples +0.22%, and the Consumer Staples Select Sector SPDR ETF (XLP) +0.31%.
#7: Health Care -0.96%, and the Health Care Select Sector SPDR ETF (XLV) -0.89%.
#8: Materials -1.83%, and the Materials Select Sector SPDR ETF (XLB) -1.81%.
#9: Real Estate -2.13%, and the Real Estate Select Sector SPDR ETF (XLRE) -2.05%.
#10: Utilities -2.60%, and the Utilities Select Sector SPDR ETF (XLU) -2.49%.
#11: Energy -3.82%, and the Energy Select Sector SPDR ETF (XLE) -3.77%.
Below is a chart of the 11 sectors' YTD performance and how they fared against the S&P 500 (SP500). For investors looking into the future of what's happening, take a look at the Seeking Alpha Catalyst Watch to see next week's breakdown of actionable events that stand out.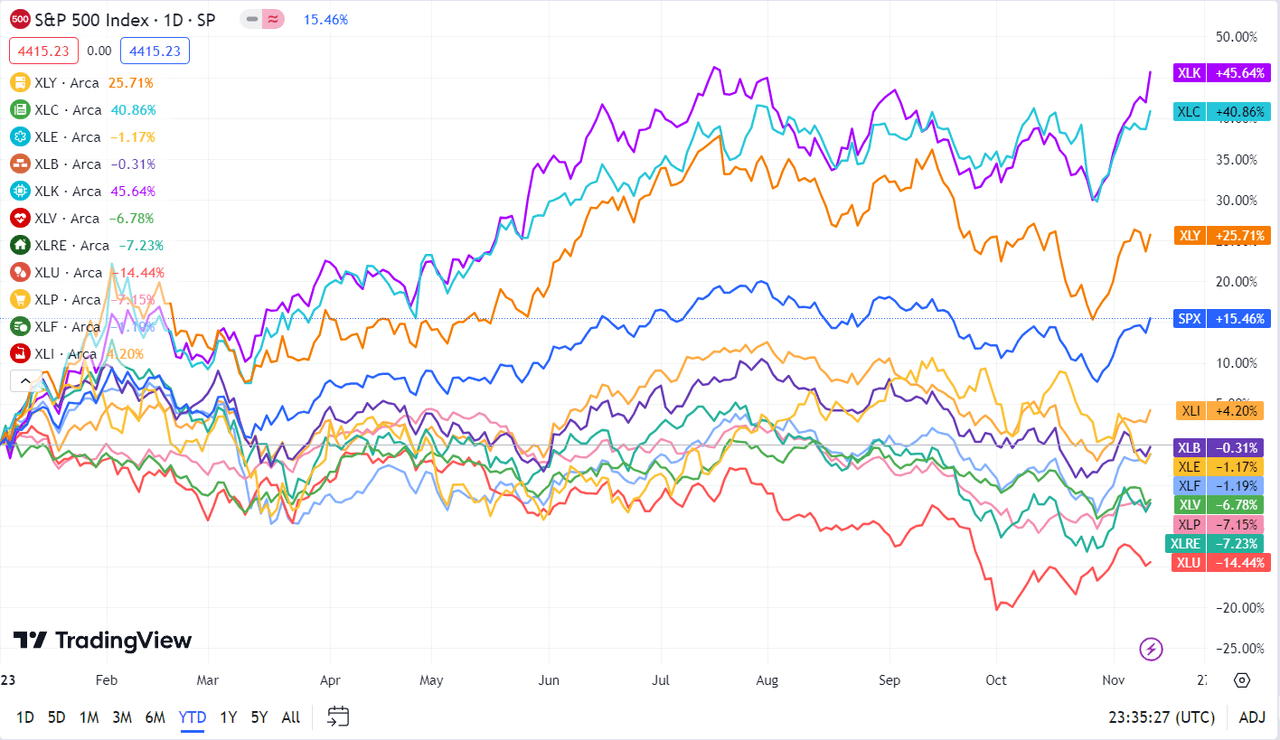 More on the markets