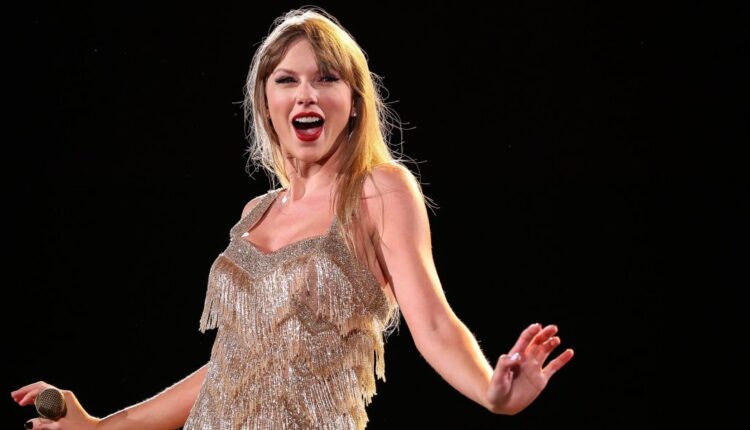 Taylor Swift is officially a billionaire: Bloomberg
Pop music supernova Taylor Swift has officially joined the three-comma club, Bloomberg News reports. On the eve of the release of 1989 TV—and amid a record-breaking tour and box office bonanza—the singer-songwriter's net worth sits at an estimated $1.1 billion.
Bloomberg's analysis takes into account the estimated value of Swift's music catalog and her five homes, as well as earnings from streaming, music sales, and her concerts. The news outlet says the calculation is likely conservative and is based "only on assets and earnings that could be confirmed or traced from publicly disclosed figures." Swift did not respond to Bloomberg's request for comment.
The bulk of her wealth is tied to her impressive catalog, which Bloomberg values at $400 million. (And that's the music she's released since 2019—the music she made before that is now held by Shamrock Holdings. If all of her music is included, the value reaches $1 billion on its own, per Bloomberg.) Another $370 million is tied to ticket sales and merchandise, while Spotify and YouTube earnings account for $120 million, and her five homes are valued at $110 million. It is possible she has other sources of wealth that are not public.
"She's one of the few entertainers to reach that status based on music and performing alone, the result of work and talent, but also canny marketing and timing," Bloomberg notes.
The world's 'most charismatic CEO'
Speculation on when, not if, Swift would officially crossover into billionaire-dom has abounded since the Eras Tour kicked off with unprecedented demand for tickets. The tour itself, which is currently slated to run through the end of 2024, is set to rack in well over $1 billion in ticket sales, much of which makes its way to Swift.
The Eras Tour has worked as something of a marketing machine for her other projects. While many artists make most of their money off of touring, Swift is the rare musician who also makes a significant amount from digital and physical music sales. Her devoted fan base makes sure of that (her most recent release, Speak Now TV, debuted in the midst of the tour and sold 716,000 copies, including nearly 270,000 on vinyl LP).
And with the fourth re-record of her first six studio albums set to release Friday, the 33-year-old is bringing in even more money. Analysts expect 1989 TV to be one of the biggest albums of the year in terms of sales.
But Swift, never one to settle for just one or two projects at a time, is also benefitting from movie ticket sales. Taylor Swift: The Eras Tour has brought in around $165 million at the worldwide box office in the past two weeks, thanks to support from fans and other movie-goers curious to get a taste of the Eras Tour for themselves. That makes it the highest-grossing concert tour movie of all time.
Bloomberg also credits Swift's billionaire status, partly, to her shrewd negotiations around streaming. The pop star took her music off of Spotify in 2014—when the original 1989 was released—demanding the company better compensate artists for their work. She took on Apple to task a few years later, resulting in changes at both streamers.
Swift's Eras Tour was a boon not just to the singer, but to the cities she performed in. The Eras Tour added $4.3 billion to the U.S.'s gross domestic product throughout the first 53 shows, according to estimates from Bloomberg Economics. She even got a shoutout from the U.S. Federal Reserve.
"Taken together, Swift Inc. is essentially a multinational conglomerate with the world's most devoted customer base, its most charismatic CEO and significant economic power," Bloomberg writes.