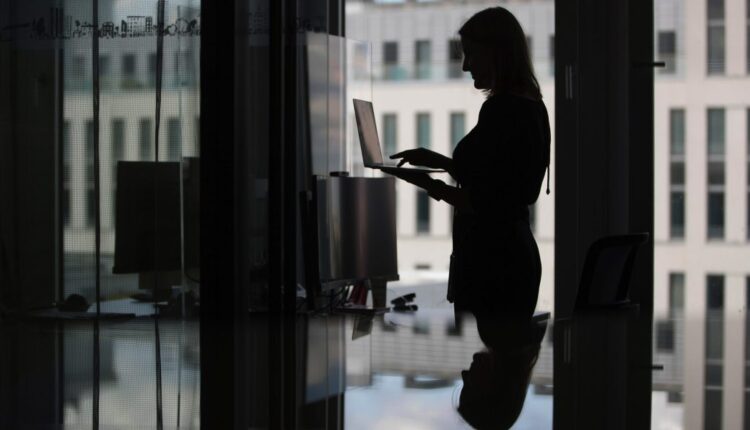 The 'Big Stay' isn't going away as the labor market stops rewarding job hoppers, according to ADP payroll data
The final death knell of the Great Resignation has rung. The latest data available from the Bureau of Labor Statistics shows that workers are now quitting their jobs at the same rate as in the six months that preceded the pandemic.
We are witnessing another shift in the post-pandemic labor market. For a while, workers were changing their jobs at rates well above historic levels. Now, they're hunkering down and sticking with the same employer.
A deep inspection of ADP payroll data could provide an explanation for the Big Stay's staying power: Workers who change jobs are no longer being rewarded with pay gains.
Job hopping isn't what it used to be
Money was a key driving force behind the Great Resignation. Pay gains from switching jobs began to accelerate dramatically in the spring of 2021. By June 2022, the median year-over-year increase for job changers had hit a record 16.4 % as abundant job opportunities and labor shortages combined to deliver big pay bumps to workers who quit one job to take another.
Those gains now are slowing almost as rapidly as they accelerated. The ADP Research Institute, which tracks the pay of roughly 22 million workers nationwide, can distinguish between individuals who have been with the same employer for 12 months and those who have quit in the past year to start a new job. We're able to compare the pay trends of both groups.
For job stayers, median annual pay growth reached a high of 7.8% in September 2022. Since then, median annual pay growth has fallen steadily, reaching 5.9% this past September, a 1.9 percentage point decline.
The ADP Pay Insights report tracks the trajectories of job changers whose previous and current employers both are ADP clients. For this group of job changers, the slowdown in pay gains has been even steeper.
After peaking at 16.4% in June 2022, median year-over-year pay gains for job switchers fell to 14.7% in January 2023. In September, the typical pay bump was 9%.
That means job hopping doesn't pay off like it did only a year ago. We expect the gap between job stayers and job changers to narrow even more.
Churn is slowing
In most cases, quitting workers don't leave the labor market, they are hired somewhere else.
In the past three months, less than 4% of employees were new hires, which ADP defines as someone on the job less than three months. More than twice as many people–over 9% percent of all employees–were new hires during the same period of 2022, ADP data show.
Industries vary dramatically on what share of their overall workforce is new to the job. As might be expected, industries heavy with occupations that require advanced training, such as construction and information technology, have a smaller share of new hires than industries with fewer skill requirements, such as retail, leisure, and hospitality.
Over the past year, however, even industries that tend to turn over a high percentage of workers every month are seeing their share of new hires dwindle. This suggests that job churn is slowing.
For example, new hires in manufacturing were at 9.9% in September. That's the lowest the ADP Research Institute has seen in the 47 months we've been keeping track. New hires typically make up 11% of the manufacturing workforce.
Even service industries with historically high turnover rates, such as leisure and hospitality and business services, are seeing their share of new hires ebb.
That new-hire sheen is fading
When we look at the broad sample of workers who started new jobs in the last three months regardless of whether their former employer was an ADP client, we see an even deeper trend.
New hire pay growth has slowed to a near standstill. In 2022, a typical new hire could expect to see a 10% jump in pay, compared with a new hire in 2021.
Now, year-over-year pay growth for new hires shrunk to just 2.9% in September. When we isolate new hires who are paid hourly (about 60% of the sample), pay has barely changed: Median hourly pay for new hires has remained at $17 since February.
Pay isn't the only reason workers quit. Improved job prospects, greater flexibility, better benefits, a more collegial workplace, and the quality of management all can influence a worker's decision to quit–or stay. But as new-hire pay bumps shrink, the decision to stay is more likely to be the one that sticks.
Nela Richardson is ADP's chief economist and ESG officer and the head of the ADP Research Institute (ADPRI).
More must-read commentary published by Fortune:
The opinions expressed in Fortune.com commentary pieces are solely the views of their authors and do not necessarily reflect the opinions and beliefs of Fortune.