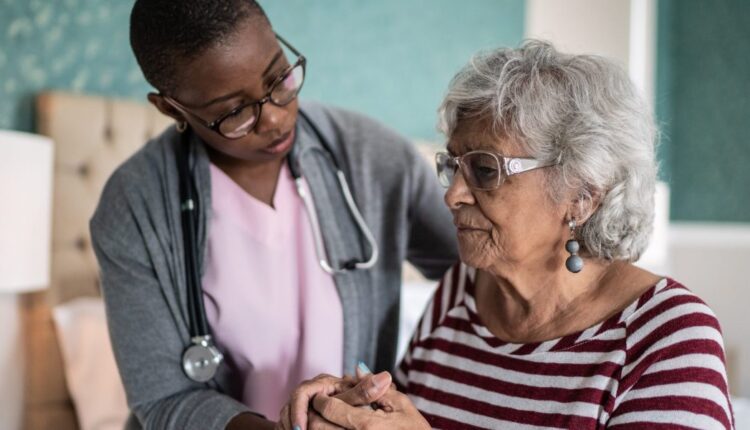 The 'hospital at home' movement is coming. Here's what it means for patients
Jean Olive's father, a congestive heart failure patient, was hospitalized three times during the pandemic. Each stay robbed him of precious time with family members, who were not allowed to visit.
Olive, the chief technology officer at Best Buy Health, had a visceral feeling: Things didn't need to be this way.
Technology used during routine hospitalizations "is not all that complex,'" she told audience members at Fortune's Brainstorm Health conference in Marina del Rey, Calif. "We have devices, we can connect devices through Wi-Fi, we can build platforms, we can manage and monitor those devices, we can set alerts and know when there's a differentiation."
Olive believes "hospital at home" care—in which doctors, nurses, and other specialists do "rounds" to the houses of patients, who are monitored remotely via video and diagnostic equipment—could have improved her dad's experience, as well as his morale. It would have also eased the minds of his family members.
"At least with my dad, we would have known what was going on with him," she said.
Olive and other healthcare leaders on the conference's data and technology panel, moderated by Fortune senior editor at large Geoff Colvin and hosted by GE HealthCare, said the shift of care for some patients is already underway—and that such an experience will be coming to a community near you soon. In the U.S., some programs already exist, run by the U.S. Department of Veterans Affairs and private health systems, according to Johns Hopkins Medicine. 
The concept could be applied to a variety of settings, from post-op to psychiatric care. The demand, she said, is significant, "because people want to stay in their home. There's so much opportunity. We just have to change the culture, get the adoption, and really try to change some of the payer models."
Dr. J. Jeffrey Carr, professor of radiology, biomedical informatics, and cardiovascular medicine at Vanderbilt University Medical Center, said his hospital is using the model to monitor cancer patients prescribed immunotherapy over several weeks.
Most patients on the potent drugs will be fine, and "it's unfortunate they would have to stay in the hospital," he said. A few, however, will develop life-threatening complications. That's why the hospital monitors their blood pressure and oxygen saturation remotely, "to try to predict who's going to have problems."
We "really provide the same care that we have in the hospital, but in the home," he said. The patients are more comfortable there—and hospital beds are freed up for patients with more dire needs.
Home is increasingly being seen as an "extension of care," forming one end of a continuum of care, with the hospital at the other end, Vignesh Shetty, senior vice president and and general manager of Edison AI and Platform at GE HealthCare, said. 
Wide implementation of the hospital at home concept will take time, the panelists said. Providers have pushed back with concerns about patient safety and legal risk, and not all insurance systems want to pay for the unorthodox service, according to The Commonwealth Fund. Olive, however, believes that two years from now, such care will be much more common.
"There's going to be a consumerization of healthcare," she said. "There will be a point when many of us go in having issues and say, 'I want to be managed at home.'"