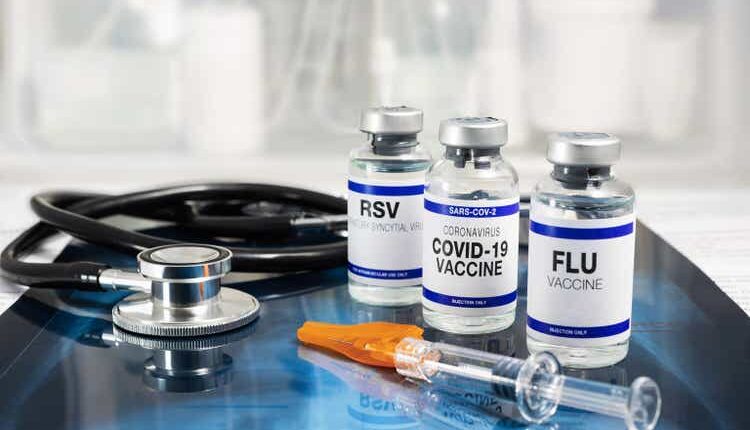 'Tripledemic' threat to be less severe this season (NYSE:PFE)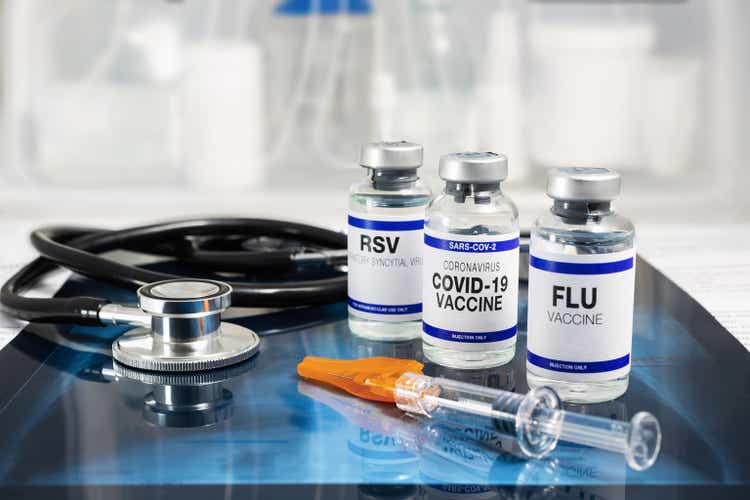 The impact of COVID, flu, and RSV on U.S. and U.K. hospitals is expected to be lower this winter compared to last, as there won't be a significant overlap between peak outbreaks of infections, the London-based data analytics firm Airfinity said in a recent report.
However, with COVID in the mix, the hospital burden is likely to be 3.4 times and 2.6 times higher this season compared to pre-pandemic days in the U.S. and the U.K., respectively.
Airfinity projects hospitalizations linked to the three viruses to peak at 57K weekly admissions at the end of January in the U.S., down from 80K during the last winter.
The COVID wave in the nation is expected to peak in November before flu and RSV spikes early next year, as indicated in the graph below.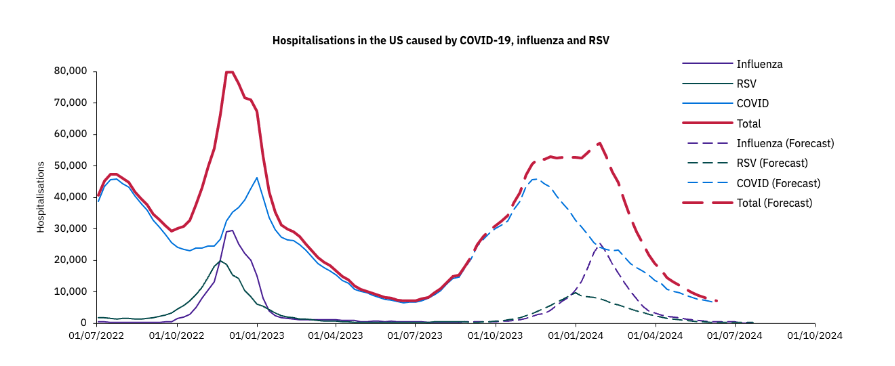 Just last week, the CDC warned about a potential "tripledemic" caused by the three respiratory pathogens against which FDA-approved vaccines will be available for the first time this year.
The season's peak outbreaks of COVID, RSV, and flu infections are expected to stretch between September and April, a prolonged duration compared to the rapid but sharp spikes in October and February during the 2022–23 season.
"Uptake of COVID and flu boosters as well as the rollout of the new vaccines to protect older people against RSV, could help reduce this burden further this year," Dr. Louise Blair, Airfinity's Senior Director of Analysis and Insights, remarked.
Last week, the CDC endorsed updated COVID-19 boosters from Pfizer (NYSE:PFE)/BioNTech (NASDAQ:BNTX) and Moderna (NASDAQ:MRNA). Novavax's (NVAX) updated COVID shot is currently under FDA review.
A few months ago, Pfizer (PFE) and GSK (NYSE:GSK) won the CDC nod to roll out their vaccines branded as Abrysvo and Arexvy to prevent RSV infections in people aged 60 years and older.
CSL Limited (OTCQX:CSLLY) (OTCQX:CMXHF), GSK (GSK), Sanofi (SNY) (OTCPK:SNYNF) (GCVRZ), and AstraZeneca (AZN) (OTCPK:AZNCF) are authorized to market their flu vaccine for the 2023–24 influenza season.
Meanwhile, in the U.K., where a new wave of COVID infections has started, peak weekly hospitalizations are expected to reach 13.5K by late September. Shortly thereafter, flu and RSV waves are set to peak in February and November, respectively, leading to a second peak in hospital admissions.
"We expect this year's peaks to be more in line with historical averages as population immunity is higher and fewer people will be susceptible to severe disease," Airfinity's Dr. Blair added.
More on COVID, RSV and flu vaccine makers