U.S. grain futures slide as USDA raises domestic supply outlook (NYSEARCA:CORN)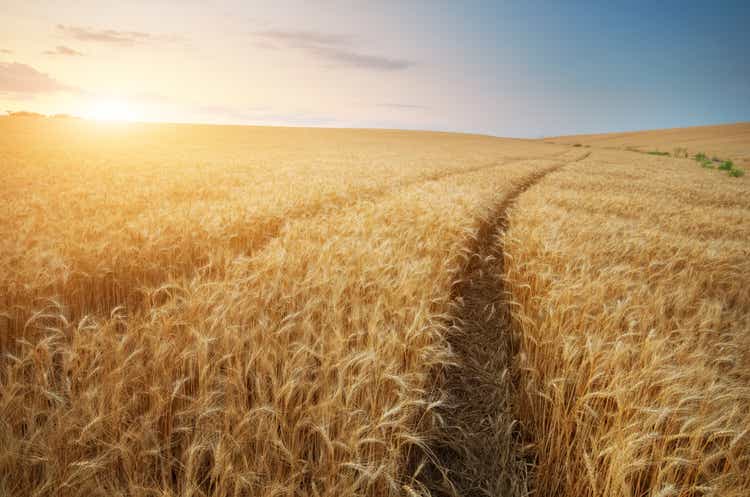 U.S. grain futures fell broadly on Thursday, as traders reacted to higher than expected production data from the U.S. Department of Agriculture.
CBOT wheat (W_1:COM) for December delivery settled -1.8% to $5.80 1/2 per bushel, December corn (C_1:COM) closed -1.6% to $4.68 3/4 per bushel, and January soybeans (S_1:COM) finished -1.5% to $13.45 per bushel.
ETFs: (NYSEARCA:WEAT), (NYSEARCA:CORN), (NYSEARCA:SOYB), (DBA), (MOO)
The USDA's WASDE report for November raised its U.S. wheat supply outlook for the 2023-24 marketing year by 10M bushels to 145M bushels, upped its domestic corn production forecast by 170M bushels to 15.2B bushels on a 1.9-bushel increase in yield to 174.9 bushels/ acre, and hiked its soybean production outlook by 25M bushels to 4.13B bushels on higher yields.
Wheat prices likely will remain pressured "simply due to the fact that Russia has an abundance of wheat, and they are having continued success exporting their product via the Black Sea," Teucrium portfolio strategist Jake Hanley told MarketWatch.
WASDE's estimated 1.9 bushel/acre increase for U.S. corn yields were a surprise, well above the average outlook of 173.2 bushels/acre forecast by analysts surveyed by The Wall Street Journal.
Ahead of the WASDE report, the USDA confirmed large flash sales of U.S. soybeans with 1.04M metric tons sold to China for delivery in the 2023-24 marketing year, and another 662.5K tons sold for delivery to "unknown destinations" – likely China – meaning the market speculates the country purchased ~1.7M tons of soybeans.
More on wheat, corn and soybeans