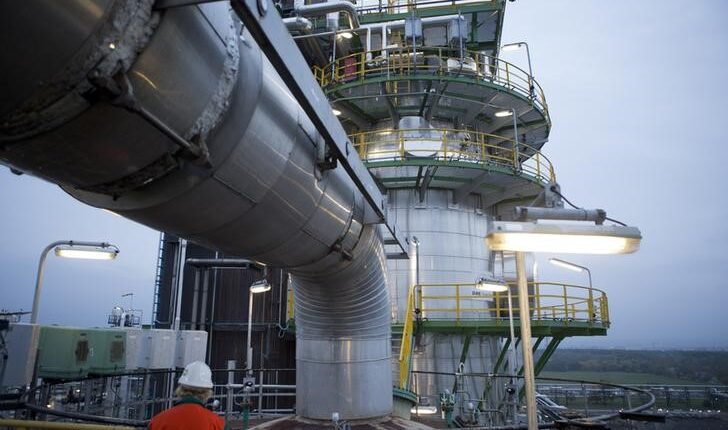 US buys 1.2 million barrels of oil for Strategic Petroleum Reserve By Reuters
© Reuters. Department of Energy officials lead reporters on a tour of the Strategic Petroleum Reserve in Freeport, Texas, U.S. June 9, 2016. REUTERS/Richard Carson
WASHINGTON (Reuters) – The U.S. has bought 1.2 million barrels of oil to help replenish the Strategic Petroleum Reserve after selling the largest amount ever from the stockpile last year, the U.S. Energy Department said on Monday.
The department said it bought the oil at an average price of $77.57 a barrel from two companies after 18 bids were submitted.
The administration of President Joe Biden last year conducted the largest ever sale from the SPR of 180 million barrels, part of a strategy to stabilize soaring oil markets and combat high pump prices in the aftermath of Russia's invasion of Ukraine. It has now bought back about 6 million barrels.
As oil prices have risen on production cutbacks by Saudi Arabia and Russia, it has been difficult for the administration to buy back oil for the reserve. Last month it raised the price at which it hopes to buy back oil to $79 or less a barrel, up from an earlier price range of about $68 to $72.
Last month the Energy Department said it hopes to buy 3 million barrels for December delivery and another 3 million for January at the higher price. It said it expects to issue additional oil purchase solicitations for the reserve on a monthly basis through at least May 2024.
"President (Joe) Biden and the Energy Department remain committed to refilling the SPR at fair prices, safeguarding this critical energy security asset while getting a good deal for American taxpayers," a department spokesperson said.
The department has said oil in last year's emergency sales sold for an average of $95 per barrel.