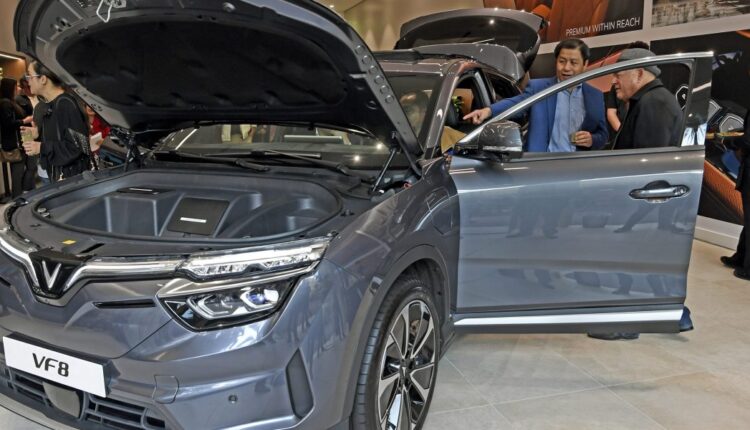 VinFast's 400% rise isn't the new norm for SPACs
VinFast Auto's 400% surge after going public in a SPAC merger earlier this month is the lone bright spot for blank-check deals completed in August.
Beyond the Vietnamese electric-vehicle maker, investors who have held on to shares of newly public companies from tie ups with special purpose acquisition companies have mostly endured nothing but losses.
All told, 11 firms have closed mergers with SPACs this month, the most active stretch since February, SPAC Research data analyzed by Bloomberg show. Nine of those stocks are trading below the $10 mark at which SPACs go public, with a median slide of 41% since their debut as investors shed the low-float firms.
SPACs enable investors to redeem their shares for $10 plus interest when they vote on deals to be completed, something that has left dozens of stocks trading with just a tiny pool of shares available. Investors redeemed 91% of the shares in de-SPACs that debuted this month on average, the SPAC Research data show. The result has been some wild swings ending in sharp losses.
Better Home & Finance Holding Co., which started trading on Aug. 24, is the worst performing company to merge with a SPAC in August, sinking 95%. Among other laggards are ESGL Holdings Ltd. and Noco-Noco Inc., each of which are down more than 70% from when they debuted. In total, 43 of the 55 companies that have gone public via SPAC this year are trading in the red with a median loss of 55%, according to data compiled by Bloomberg.
Since its Aug. 15 debut, VinFast has seen its market value surpass Ford Motor Co. and General Motors Co. combined, making the EV company bigger than 420 members of the S&P 500 Index. Its value on paper is $121 billion. 
However, with just 1% of VinFast shares available for trading, the stock's wild run is drawing comparisons to AMTD Digital Inc., another US-listed company with roots in Asia, which has tumbled more than 99% from its peak. VinFast's rally is starting to ebb, with the shares falling as much as 41% Tuesday, showcasing how risky trading low-float stocks can be.  
Since the start of 2020, when blank checks became a pandemic investing trend, more than 15 de-SPACs have gone bankrupt while 160 of the roughly 400 companies trade below $2, a more than 80% plunge from the price at which SPACs typically go public.