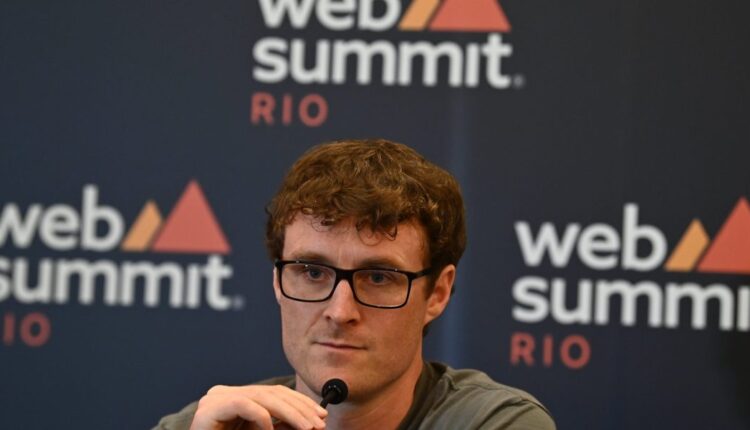 Web Summit CEO Paddy Cosgrave resigns over Israel comments
Paddy Cosgrave has stepped down from his role as chief executive officer of Web Summit after his remarks following attacks on Israel earlier this month caused high-profile attendees, including Alphabet Inc. and Meta Platforms Inc., to pull out of the show. 
Web Summit will appoint a new CEO as soon as possible and the show, due to start on Nov. 13 in Lisbon, will go ahead as planned, the organizers said in an emailed statement on Saturday. 
"Unfortunately, my personal comments have become a distraction from the event, and our team, our sponsors, our startups and the people who attend," Cosgrave said in the statement. "I sincerely apologize again for any hurt I have caused."
Cosgrave had sent a post on X, formerly Twitter Inc., that said "war crimes are war crimes even when committed by allies," directed at Israel's response to Hamas. The remarks caused a backlash from a number of venture capitalists and tech founders.
Cosgrave posted an apology on Web Summit's blog days later, and said he was sorry for causing "profound hurt" with the timing and content of his statement. But it wasn't enough to stop a campaign calling for speakers and sponsors to pull out of the show, which had more than 70,000 attendees last year. 
In addition to Alphabet's Google and Meta, Amazon.com Inc., Intel Corp., Siemens AG, Stripe Inc. and a raft of venture capitalists said they'd canceled plans to come to the show. A group of Israeli investors issued a joint statement calling for a boycott of the event, according to a report from Israeli news site Calcalist.
Still, the resignation was a surprise after Cosgrave indicated as recently as last week that he'd stay on and reassured employees that the show had enough money in the bank to continue for at least two years, according to a report earlier on Saturday from Irish newspaper the Business Post, citing Web Summit employees it didn't identify. 
Cosgrave founded Web Summit in Dublin in 2009 with David Kelly, and Daire Hickey before it moved the main conference to Portugal in 2016. While the show became Europe's largest tech gathering, and attracted tech companies and celebrities from all over the world, Cosgrave has courted controversy before. 
Last year, the summit was forced to withdraw invitations for speakers from the Grayzone after a backlash against the website's anti-Ukrainian government narratives. Grayzone had published posts since the start of the Russian invasion that accused senior members of the Ukraine government and military of being sympathetic to Nazis.