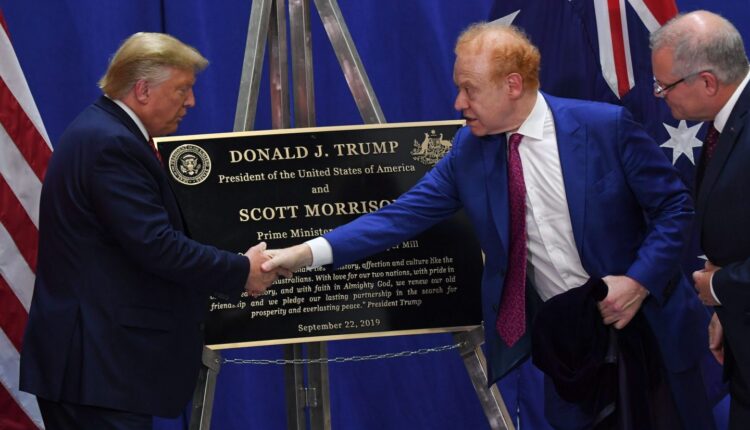 Who is Anthony Pratt, the billionaire accused of receiving nuclear secrets from Donald Trump?
Among the most explosive allegations in the ongoing indictments of former President Donald Trump is that he shared state secrets with Australian billionaire Anthony Pratt. The Australian news program 60 Minutes reported this weekend on audio recordings it obtained that revealed Pratt's "extraordinary dealings" with the former president. 
Pratt, Australia's third-richest person, allegedly learned state secrets about the U.S. military's nuclear submarines from the former president, as ABC News first reported earlier this month, citing unnamed sources. Trump has refuted the allegations, posting on Truth Social over the weekend that his conversations with the "red haired weirdo from Australia" centered on "creating jobs in Ohio and Pennsylvania."
According to ABC News, Pratt, the billionaire owner of a cardboard box company, learned the classified information while speaking with Trump at Mar-a-Lago, Trump's country club in West Palm Beach, Florida. During the conversation, the former president allegedly told Pratt two pieces of critical information about the U.S.' nuclear submarines: how many nuclear warheads are aboard each submarine and how close they can get to a Russian sub without being detected, according to ABC News. Pratt then shared that information with around 45 other other people, ABC claimed. 
To date, Pratt has not been charged with wrongdoing, and it is unclear if Pratt believed Trump's statements or if they were even accurate. Still, media reports noted that Pratt was interviewed twice by special prosecutor Jack Smith, who is investigating the classified documents case brought against the former president. 
Pratt inherited a very successful cardboard box company from his father
Like Trump, Pratt had a wealthy father who built much of the family's business. The father, Robert Pratt, was an Australian businessman who founded the cardboard and recycling company Visy. An article in the Australian Financial Review likened the Pratt family's ascent to that of the Murdochs and the Packers, globally known Australian billionaire clans who have faced their own share of controversy. 
Pratt, who has a net worth of $9 billion, according to the Bloomberg Billionaire Index, is the owner of Pratt Industries, a box company that was among the first to manufacture cardboard from recycled materials. He is also the executive chair of Visy, the Australian arm of the family cardboard box business his father Robert started. While the younger Pratt was in his 30s, his father sent him to oversee a paper mill in Macon, Georgia, and while the family ended up selling that plant, Pratt's ties to the U.S. have remained strong ever since. Today he leads the Atlanta-based Pratt Industries. He is married to American Claudine Revere, whose company is a caterer for Trump's Central Park ice-skating rink, according to the Australian Financial Review.
Pratt Industries does $6 billion in revenue annually and has about 10,000 U.S. employees, according to the company's website. (Visy did not immediately respond to a request for comment from Fortune. Multiple calls to Pratt Industries were directed to a non-functioning voicemail box. )
Inherited wealth, used to cultivate relationships
Once Trump was elected president in 2016, Pratt undertook a successful campaign to enter the former president's social, business and political circles, according to The New York Times. 
Pratt shelled out at least $200,000 for a membership to Mar-a-Lago, once spent $1 million to attend a $50,000-a-head event where Trump was present, and even took out a full page-ad in the Wall Street Journal praising Trump's policies for creating manufacturing jobs in the Midwest, according to the Australia Financial Review. 
In 2019, then-President Donald Trump attended the opening of a new factory for Pratt Industries, which is owned by Australian billionaire Anthony Pratt.
SAUL LOEB/AFP via Getty Images
Like the former president, Pratt, who splits his time between a penthouse in New York and a house in Atlanta, has been a vocal supporter of American manufacturing. "We want to be the last man standing here," he told the Australian Financial Review in 2015. "A lot of companies sold out of America, but not us." When Pratt Industries opened a new factory in Ohio in 2019, then-President Trump visited the plant with the Australian prime minister. 
"We're here to celebrate a great opening and a great gentleman," Trump said at the event, adding. "Anthony is one of the most successful men in the world – perhaps Australia's most successful man."
For a while, that relationship seemed to pay off. The Trump-era tax cuts pushed through in 2017 reportedly helped Pratt's personal net worth increase by about $2.7 billion Australian dollars, roughly $1.9 billion U.S., according to the Sydney Morning Herald. 
Pratt's relationship with Trump isn't the only one to have brought him success, according to multiple media reports. Pratt once struck a deal with Home Depot CEO Bernie Marcus while the two were on a private tour of the Georgia Aquarium, to which they'd both donated, according to the 2015 Australian Financial Review profile. And, before Trump soured on him, Pratt used to bring his billionaire friends to Mar-a-Lago, including mining billionaire and Australia's richest person Gina Reinhart, and C-suite customers like Marcus. 
When asked by an Australian reporter where Pratt expected the future of his company's business to come from, he replied. "It is all about relationships."