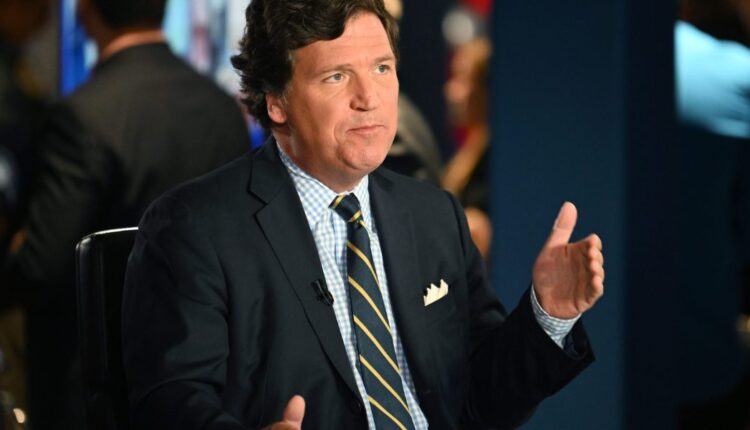 Why Tucker Carlson got fired by Fox News
Fox News gave no reason for Carlson's exit and merely pointed to its press release from Monday about the topic. But the decision came less than a week after the network agreed to pay $787.5 million to settle a high-profile defamation suit that had dredged up messages from Carlson and some of his colleagues in which they dismissed claims that the 2020 presidential election had been stolen but then promoted that false information on air.
Offensive texts about bosses
Discovery in the defamation case filed by voting-machine company Dominion Voting Systems uncovered that Carlson had used the c-word against senior network executives. Fox's lawyers successfully managed to redact those references from legal filings, the Wall Street Journal reported Wednesday, citing people with knowledge of the matter. But management certainly got to look at them.
Carlson's disagreements with Fox's management were many. The friction was so great that the network reportedly appointed former President Donald Trump's aide, Raj Shah, as an intermediary between Carlson and the network's communications department, sources close to the matter told the Journal. He also repeatedly asked that some on-air colleagues be fired, as detailed in court documents cited by the outlet. 
Ultimately, Carlson's criticism of senior management played a role in his firing, according to unnamed sources who spoke to the Journal.
Rupert Murdoch's growing criticism
Carlson and Rupert Murdoch, the billionaire chairman of Fox News' parent company, had reportedly dined together just weeks ago, even with the Dominion lawsuit coming to a head. But despite the facade of normality, Murdoch was reportedly no longer a fan of Carlson's on-air commentary or his behavior off-camera, the Washington Post reported Wednesday citing people familiar with the matter. 
Murdoch was displeased with Carlson's stance on the Ukraine war—a graphic on Carlson's show had previously called the country's President Volodymyr Zelensky a "Ukrainian pimp." The host also repeatedly chided the U.S. for providing military aid to Ukraine. Murdoch's opinion of Carlson's commentary had become so negative that he complained about it during a newsroom meeting, according to anonymous sources cited by the Washington Post. 
Although Murdoch had reportedly soured on Carlson's role, the decision to oust him was in the hands of Murdoch's son, Lachlan Murdoch, the CEO of Fox Corp. Lachlan reportedly consulted Fox News CEO Suzanne Scott, who ultimately called Carlson on Monday to inform him that the network would part ways with him, the Washington Post reported. 
Prayer talk
Another theory is that Carlson's departure was sealed by his appearance at the Heritage Foundation's 50th Anniversary gala on Friday. At the event, Carlson reportedly spoke about the power of religion and prayer in the current political climate, and Rupert Murdoch wasn't impressed by it, according to a source who spoke to the Vanity Fair. The TV host also referred to concepts of "good" and "evil" in the context of national politics, and added that he refrained from engaging in "fraudulent debates" and resorted to praying instead. 
"I have concluded it might be worth taking just 10 minutes out of your busy schedule to say a prayer for the future, and I hope you will," Carlson said at the Heritage Foundation gala. 
 But a person close to the matter told Vanity Fair that Rupert Murdoch isn't a fan of public displays of religion. 
"That stuff freaks Rupert out. He doesn't like all the spiritual talk," the person said.
Risk vs. reward
The decision to oust Carlson could have simply been based on the network's calculation of risk versus reward, according to a TV news executive who spoke to CNN.
"I know that's not very exciting, but it's how these decisions get made at the highest level," the executive told CNN. "A weighing of the negatives – and risks to the business – versus the positives or benefits." 
Carlson's controversial points of view and airing of conspiracy theories had caused problems at the network. Although he had the highest ratings among cable TV shows in the 25-to-54 age group, Carlson's commentary had also caused advertisers to distance themselves from his show and thereby reduce potential revenue.