With ecstasy a potential PTSD therapy, psychedelic treatments could take off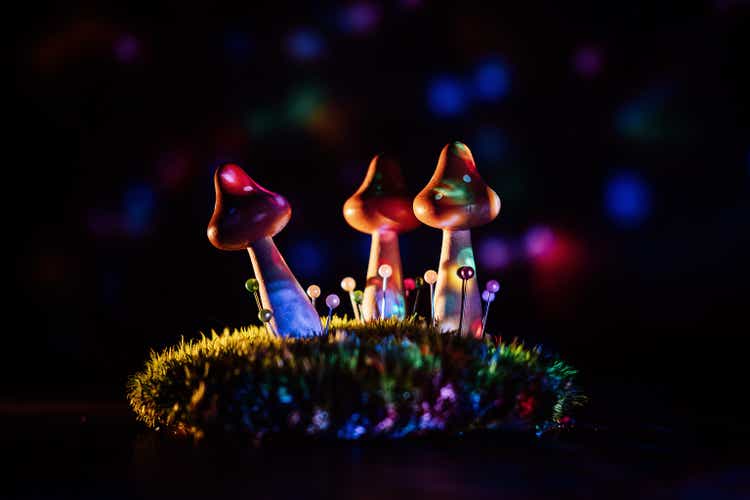 On Sept. 14, the Multidisciplinary Association for Psychedelic Studies ("MAPS") announced positive results on a second phase 3 trial for MDMA — also known as ecstasy — for post-traumatic stress disorder that were published in a scientific journal.
The data in the study in Nature Medicine found that those given MDMA saw significant improvements in PTSD symptoms compared to those on placebo. No serious treatment emergent adverse events or deaths were reported.
As a result, MAPS said its subsidiary, MAPS Public Benefit Corporation, would likely file an NDA for the candidate by the end of the year. That sets the stage for a potential US FDA approval in 2024.
Were that to occur, the MDMA candidate could become the first true psychedelic drug to win FDA approval. The last therapy with a psychedelic component approved by the agency came in 2019 with Johnson & Johnson's (JNJ) Spravato (esketamine), a derivative of the dissociative hallucinogen ketamine, for treatment-resistant depression.
Psychedelic therapies for mental health conditions could represent a major advance in treatment for two key reasons: There is an unmet medical need for several ailments and their effects work rapidly. For example, currently available antidepressants usually take a least a month before any treatment effects are felt. With Spravato, the antidepressant effect can be felt in minutes.
Psychedelic treatments are projected to become major revenue drivers for drug developers. The global psychedelic drugs market size is projected to grow at a CAGR of more than 14% from 2023 to 2035, according to a new report from Research Nester. By the end of 2025, the market is expected to rake in revenue of $12B, up from ~$3B in 2023.
The FDA has also recognized the potential benefits of psychedelics, having issued guidance for psychedelic research in June.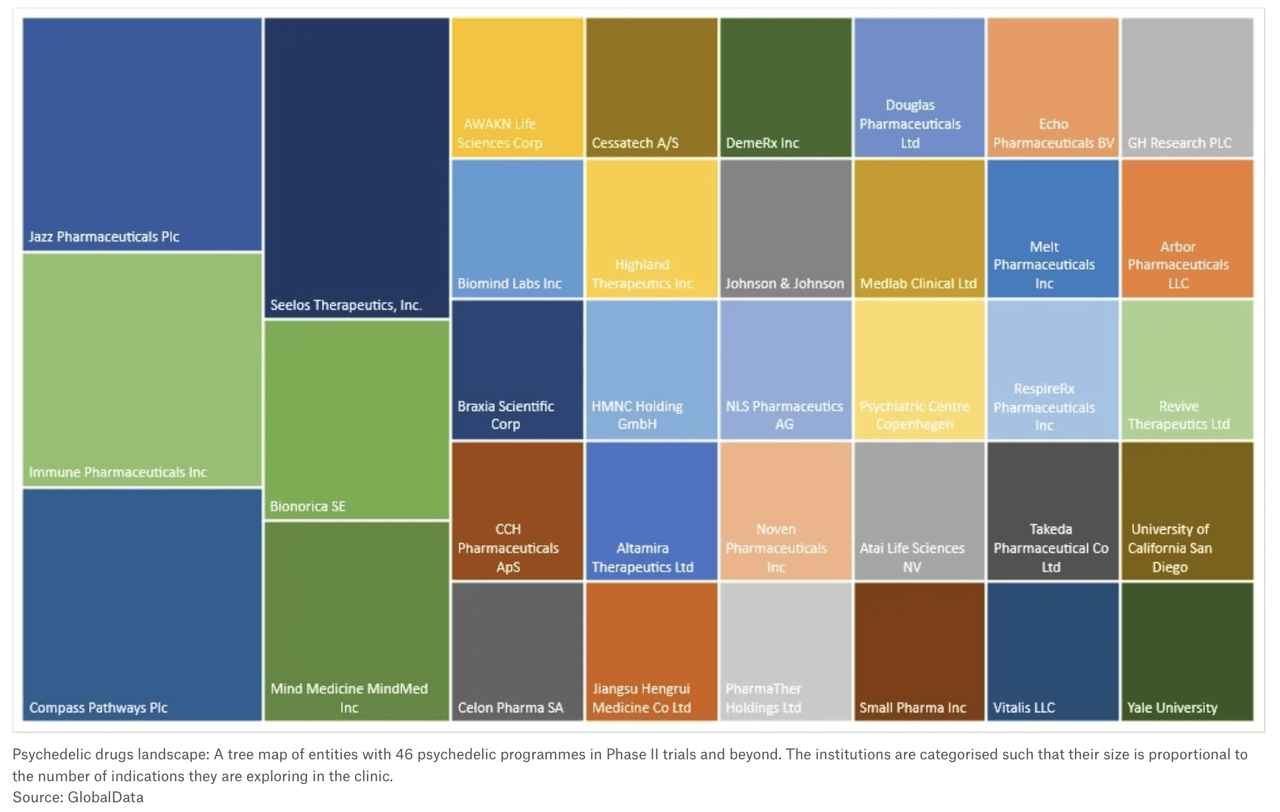 Courtesy: Pharmaceutical Technology
Drug companies that are working on psychedelic drug treatments, for the most part, aren't household names. Publicly traded ones include COMPASS Pathways (NASDAQ:CMPS), Cybin (CYBN), Mind Medicine (NASDAQ:MNMD), Atai Life Sciences (NASDAQ:ATAI), Lucy Scientific Discovery (LSDI) Silo Pharma (SILO), Numinus Wellness (OTCQX:NUMIF), Jazz Pharmaceuticals (JAZZ), GH Research (GHRS), Bright Minds Bioscience (DRUG), 180 Life Sciences (ATNF), Seelos Therapeutics (NASDAQ:SEEL), and PharmaTher Holdings (OTCQB:PHRRF).
Even large pharma companies, such as Johnson & Johnson (JNJ) and Takeda Pharmaceutucal (TAK), have dipped their toes into psychedelic development.
While MAPS's MDMA therapy for PTSD is the furthest along, others in the field are also progressing. COMPASS Pathways has had promising phase 2 results on COMP360, its psilocybin therapy for treatment-resistant depression. Psilocybin is a naturally occurring psychedelic commonly found in "magic mushrooms."
MindMed (MNMD) is engaged in Project Lucy, currently in phase 2, that uses doses of LSD to treat anxiety. The LSD microdosing is also under investigation for ADHD.
For Atai Life Sciences (ATAI), psychedelic drugs make up five of the 10 candidates in the company's pipeline, which include MDMA, ketamine and psilocybin.
More on psychedelic drugmakers